List as of April 17, 2011
#150 - 141 | #140 - 131 | #130 - 121 | #120 - 111 | #110 - 101 | #100 - 91 | #90 - 81 | #80 - 71 | #70 - 61 | #60 - 51 | #50 - 41 | #40 - 31 | #30 - 21 | #20 - 11 | #10 - 1 | Recap
Down this list, we have come a very long way, as we are about to finish 100 of 150 of the best posts of all time, and the best is still only yet to come! We're chuggin' along through #60 - 51, after the jump...
My first crude MSPaint fanshot. Nice to see you snap out of it, Ike.
HOME COOKIN' WITH R.A. DICKEY
"WHO WANTS BAAAAAAAAAAAACOOOOOON!?!?!?"
(bumped from fanposts. --eric)
With the 2009 season done and over, it's time to start handing out hardware. I present to you the first annual Gangsta and Grission Awards. Some of the categories had very tight races, while others were as one-sided as the Imperfect Game. The votes are in, however, and all winners receive as a way to remember their achievements, a Golden Jerry.
(Bumped from FanPosts. --Eric)
---
Joe Beningo
I am not only Sammy Davis Jr. and Sal Fasano rolled into one, but a wise and learned bemoaner of the fortunes of the National League New York franchise.
Completely Made-Up Quote: The Mets - oh, the pain! Any blind optimism about the 2011 season has been lost in a sea of Mike Pelfrey and Jon Niese and the rest of this god-awful rotation. What a disaster! And don't even look at the bullpen - oh god, the bullpen! RAISE THE WHITE FLAG, THROW IN THE TOWEL, TRAID THA CORE. 
Scouting Report: Beningo, an avid user of Just For Men - Facial Hair but far too lazy to put it on his head, attempts to stir up the pot with starting points like "[Yankee Player X] is much better than [Mets Player Y]". My guess? He's a closeted Yankee fan. Beningo believes in extremely small sample sizes and often blows them up to the extreme. If he was living in the 1920s and was a sports commentator of some sort, he would likely have decried Ruth's 1922 season in which the Babe hit only 35 jacks and had a 182 OPS+. He would have written the Babe off as a flash in the pan. Meanwhile, he would have praised the "solid job" of washed-up Phil Douglas of the '22 Giants, who despite leading the league in ERA had 33 K's and 35 walks in 157 innings.
(Bumped from FanPosts. --Eric)
---
"It's as though we were made for each other. Beauty and the beast. Of course, if anyone else calls you a beast, I'll rip their lungs out." - The Joker
"I stands what I can stand, and I can't stands no more." - Popeye
I'm not sure at what point I looked at the 2011 edition of the Mets and thought to myself, "Self, this could be a halfway decent team." There was a part of me that almost felt ashamed at such moderately optimistic sentiments. After all, this is an organization that has caused me no small amount of heartburn over the years, and especially the last two. Had I lost my senses? The Mets not sucking? I would have to withdraw from the AA community for such senselessness. 
And then, in dribs and drabs, I noticed people making similarly semi-optimistic predictions for the forthcoming year.  I wasn't alone! I could come out of the closet and proclaim my convictions that the Mets were not completely awful  What joy!
But then there's that entity know as the mainstream sports media.
mistermet Music Factory presents:
in collaboration with Puppy Avenue Records:


"Friday: The Opening Day Edition"
Inspired by Youtube sensation Rebecca Black's song "Friday"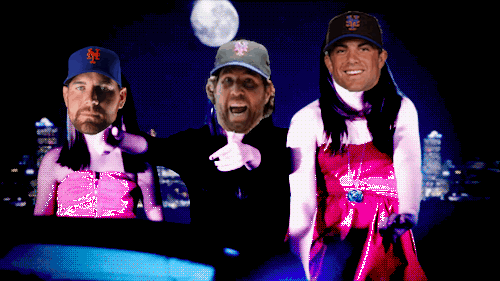 I've been waiting for this day to come for a while, so in its celebration, I decided to update my "Who's Next?" post from August 31st. Click that link to see the original.
Click this link to embiggen the update. I think it sufficiently celebrates this glorious day.
Here is my next installment of players who needed their own .gifs. While i'll probably never top the Dickey gif I posted last week, I hope you'll enjoy this one as well, as it seemed to be begging to be made.
Continue to... The Amazin' Avenue Rec-ord Book: #50 - 41 »
#150 - 141 | #140 - 131 | #130 - 121 | #120 - 111 | #110 - 101 | #100 - 91 | #90 - 81 | #80 - 71 | #70 - 61 | #60 - 51 | #50 - 41 | #40 - 31 | #30 - 21 | #20 - 11 | #10 - 1 | Recap