Goal
I have always viewed 2014 as a transition year, where we push over .500 for the first time since 2008 and see improvements from our talented prospects. My goal is to put together a team that can be competitive in 2014 and to add young talent that can help us stay competitive for the next decade.
Non Tenders
Eric Young Jr
http://2guystalkingmetsbaseball.com/wp-content/uploads/2013/06/Ike-sad-400x262.jpg
Free Agent Signings
1) Carlos Beltran: 2 years 25 million (2014 - $12 million, 2015 - $13 million)
Yes Beltran is back! The mets desperately need to improve the outfield this offseason and Beltran will no doubt be an improvement. This year Beltran put up a line of .296/.339/.491 and had an impressive 132 wRC+, while nobody doubts Beltran's offense his defense has declined immensely. Beltran had a very poor season defensively in 2013 and I doubt it will improve but if Beltran can keep putting up similar offensive numbers to last year I can live with the defense.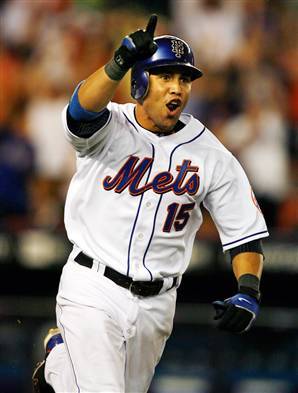 http://mets360.com/wp-content/uploads/2012/10/carlosBeltran.jpg
2) Jhonny Peralta: 2 years 20 million (2014 - $9 million, 2015 - $11 million)
Shortstop is a huge hole and there is no help coming from the minors anytime soon. Peralta is one of the best SS on the market and would bring a huge boost to the offense.
3) Josh Johnson: 1 year 5 million
The Starting rotation is pretty set for the future but with the injury to Harvey the Mets need to add a starter. Josh Johnson is a low risk/ high reward type signing, If he has a comeback year the Mets have a nice trade chip for when our young pitchers are ready to come up.
4) Nate McLouth: 2 year 8 million
McLouth is able to get on base at a decent rate and is a base stealing threat when he gets on. McLouth was also able to hit for a 107 wRC+ against RHP while only hitting for a 75 wRC+ against LHP in 2013 which means he will be more productive as part of a platoon.
5) Rajai Davis: 1 year 3 million
Here is the other part of the platoon with McLouth, Davis like McLouth profiles as a leadoff hitter but unlike McLouth Davis is very good against LHP hitting for a 137 wRC+ against them in 2013.
6) Latroy Hawkins: 1 year 2 million
Hawkins had a very good year in the bullpen last year and is worth the money to bring him back.
Minor League Contracts
With a bunch of young players in the starting rotation this year the Mets need all the starting pitching depth they can afford.
More starting pitcher depth.
Trades
7) Daniel Murphy and Gavin Cecchini to the Kansas City Royals for Raul Mondesi
Why the Royals do this trade:
- Murphy fills a huge hole at 2B.
- Dayton Moore is under a lot of pressure this year to make the post season after trading top prospect Wil Myers last year for two years of James Shields.
- Murphy is relatively cheap and this will allow the Royals to spend money on an outfielder.
Why the Mets do this trade:
- Mondesi is a top SS prospect and projects to be an above average SS both offensively and defensively.
- Trading Murphy allows the Mets to start Wilmer Flores who is cheaper and has the higher ceiling.
- Who wouldn't want to see a St Lucie team that has Nimmo, Herrera and Mondesi?
8) Three team deal between the Mets, Angels, and Tigers: Mets receive Nick Castellanos and Melvin Mercedes, Angels receive Rafael Montero and Jake Thompson, Tigers receive Bobby Parnell, Howie Kendrick, and Kevin Plawekci.
Why the Tigers do this trade:
- Tigers are a team that is in win now mode, With a farm system that is barren they have a small window to win a championship.
- Bobby Parnell will shore up a bullpen that finished 24th in the MLB in ERA in 2013.
- Howie Kendrick can replace Omar Infante who is set to hit free agency this offseason.
- The Tigers have been getting below average production from the catching position and Plawecki should be able to help them out by 2015.
Why the Angels do this trade:
- The Angels are shopping Howie Kendrick and desperately need major league ready arms to help their starting rotation.
- Rafael Montero is a top prospect who is ready to contribute and would be a huge part in helping to stabilize the back end of the Angels rotation.
- The Angels farm system has little talent and adding Thompson gives them a pitcher who could develop into a #3 or #4 pitcher.
Why the Mets do this trade:
- The Mets have the luxury of trading from strength, Montero is expendable with Harvey, Wheeler, Syndergaard, Niese, Gee, and Mejia as part of the starting rotation moving foward. Kevin Plawecki is blocked by Travis d'Arnaud who is the best catching prospect in baseball. Bobby Parnell may be at his peak value and with a bunch of young bullpen arms like Black, Familia, Leathersich, Walters, DeGrom and Mazzoni he is expendable.
- Outside of Puello and Nimmo the Mets have very little talent in the outfield in the minor leagues, by adding Castellanos the Mets get a top 25 prospect in baseball that has one of the best bats in the minors.
- Mercedes has the stuff to be a major league closer and would be another young flamethrower added to the pen next year.
2014 Mets
starting Lineup
1. McLouth/Davis LF
2. Duda/Satin 1B
3. David Wright 3B
4. Carlos Beltran RF
5. Jhonny Peralta SS
6. Wilmer Flores 2B
7. Travis d'Arnaud C
8. Juan Lagares CF
Bench
Justin Turner INF
Josh Satin 1B
Rajai Davis OF
Andrew Brown OF
Starting Rotation
1. Jonathan Niese
2. Dillon Gee
3. Zack Wheeler
4. Jenrry mejia
5. Josh Johnson
Bullpen
Latroy Hawkins
Probable Mid Season Call ups:
- Jacob DeGrom
- Nick Castellanos
- Jeff Walters
- Melvin Mercedes
2014 Payroll:
Guaranteed Contracts = $33.55 million
Arbitration = $6 million
Rookie Contracts = $7 million
Free Agents = $35 million
Total Payroll = $81,550,000