I love this site and the contributors - think that the users here are representative of the true orange and blue spirit. My rub isn't towards the fans who counter the agonizing realities of a vacant outfield and bullpen by ranking our prospects, debating the foresight of what can seem like inept management, or searching for similarities between puppies and players. Nay - I am calling out the 8.5 million people who are priviledged to live the tri-boroguh area, and are complacent enough to let this happen
(again)
:
Pablo Sandoval
is currently ahead of the NY
Mets
Captain
,
David Wright
, by over 127k votes. This isn't about stats (which D-Wright has him beat on anyway, more about that further down) - this is about how Mets fans have become completely apathetic. I get it, we are not competitive. We haven't been competitive in years. But that comes with the territory, doesn't it?
If I wanted to root for 'the winners' I would be a yankees fan:
I want to be a front runner! (via slim416)
Everyone has a reason for rooting for their team. I always loved hearing the history of why people started following this franchise. We are a proud fan base - and know that being a fan of this team takes character.
I am a fan because I was born and raised in flushing, spent my highschool summer mornings working on the rooftops of Manhattan and my evenings at Shea, and because of moments like Mike Piazza's 9-21 homerun.
Real Mets fans are loyal, passionate, and proud. Today, I am disappointed.
...I am disappointed because the bay area fans have seen to it that they have a position player
in the top three of voting in most categories.
The Mets have two (Buck and Wright). To make matters worse - we are letting this happen when the all-star game is on our turf!!!
Pathetic!
. The All-Star game should start with
Matt Harvey
on the mound, D-Wright at third, Murph at second (see chart below), and maybe even Buck at the backstop. No exceptions (except for 'Buck at the backstop'). At very least, our newly appointed captain should not have to sit in the dugout and watch fat ichiro man his position in his home. This is unacceptable.
I am 25 and pretty successful in my career - and I am still proud enough to log into mlb.com and cast my vote a bunch of times. Get to it - let's not let this happen. It happen last year when Wright played like an MVP in the first half... for all I know that was the ego-shattering moment that set him up for a much weaker second half of the season.
And it pains me to say it... but the Yankee fans would never let this happen to Jeter...
...Even if he was too injured and old to even play the game.
Here are a few stats that I threw together to show Wright deserves the start, Murph should atleast be in the conversation, and that it is excusable for Buck to be passed up on...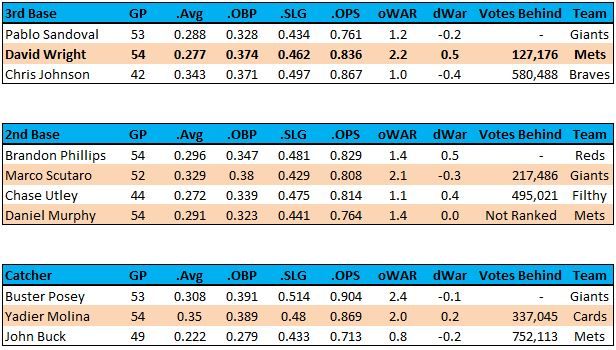 Thanks for reading, and get voting!