It's no secret that we could really use a bat. And it's also no secret that we have a lot of pitching. We've been talking about making some trades for a while now, and I think that this year may be the time to finally trade a young arm to get a power bat. I dunno if it's going to happen during the season, I dunno if it's gonna happen during the offseason. But a trade should happen, and I think that it should happen with the Chicago Cubs.
They don't have pitching. Period. Look at their rotation. They've got Samardzija, Jackson, Hammel, Wood, and Arrieta. Granted, Samardzija is very good, but the rest of that rotation is highly suspect. They have C.J. Edwards in the minors, but he's kinda far away, injured right now, and not supposed to be a top of the rotation arm. So, they would be a suitor for our pitching. And I have to say, they have some enticing position prospects in the minors, with a particular glut of middle infielders.
This dude. Second overall draft pick in the 2013 draft. The guy who outhomered 77% of other Division I college teams. By himself. Bryant is my pipe dream. After being drafted, he's gone on to hit .343/.429/.690 in the minors, and is currently sitting in AA. Oh, and just as a reminder, he hasn't even played a complete season in the minors yet. So I may be getting a little too excited, but that also may mean that Bryant is freakishly good. I'm beginning to suspect the latter.
Anyway, he's a plus athlete who currently plays third base, but scouts think he's a good enough athlete to easily transition to the outfield. And as far as hitting goes, Bryant does it all. He projects to hit for good average, power, and get on base. And he's a fairly quick guy on the base paths as well. Basically, this is your prototypical middle of the order bat. If we could get Bryant, I'd swoon. Of course, he'd probably cost a pretty penny. But realistically, I'd only say that Harvey's off the table. I'd have to consider trading one of Niese, Syndergaard, or Wheeler to get Bryant. It would sting, but Bryant's going to be ready by the end of the season, and he'd be a serious asset for our team.
I'm pretty sure you've all heard of Baez. One of the biggest power bats in the minors, and he just happens to play SS. I'd be thrilled to get him, but I highly doubt that we actually could pry him away from the cubs, so I'm not gonna waste my time doing an in-depth profile of him.
Stalin Starlin Castro-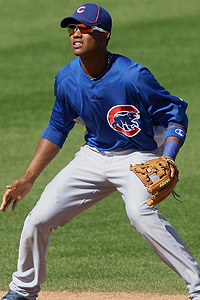 He's 24, and this is his 5th year in the majors. He's also hit .282/.321/.407 over that time span. He's a well-rounded player. Good defense, solid speed, decent power, etc. He had a down year last year, but he's up to .272/.316/.438 on the year, and that production is looking mighty nice from SS, although it would be nice to see him walk a bit more. Castro's averaging about 11 home runs per year, and he's a doubles machine. I'd be very pleased to land Casto, who would solve our SS problems for a long time. On the flip side, he'd also cost a top prospect.
He's currently in AAA, and has hit .279/.332/.428 throughout 6 years in the minors. Not eye popping numbers, but certainly solid numbers. He's also a seriously toolsy dude. He's a switch hitter with a compact, line-drive swing from both sides of the plate. He won't hit a ton of home runs, but he certainly has some pop. Oh, and Alcantara also has a good amount of speed. He's an average/above-average defender at both SS and 2B with a strong arm and good range. He's my darkhorse candidate to trade for, and I don't think he'd cost a top flight prospect.
So between those guys, here's what I got:
Bryant: pipe dream. Will cost top prospect and may be impossible to get, but he'll be up next year and mash.
Baez: don't even bother. He's the golden goose of the Cubs farm system.
Castro: will also cost a top prospect. Probably won't be available until Baez and Alcantara are ready to roll, though.
Alcantara: intriguing. Very close to being ready, and he's kind of the forgotten child among the infield powerhouse of Bryant, Baez, and Castro. Possible target.