I have two papers due, one of which is a final paper, two computer projects due, and two tests all this week, yet for some reason, I felt this was more important.

I had done a FanPost about two months ago and this is largely the same idea. Everything here should be feasible, there is only one trade and while it's not the most likely to happen, it is certainly possible. I made this plan specifically to reach the $150 million dollar mark. If I can upgrade a player for a few million, why not? Most of the money projections are probably on the low end because I don't think anyone is getting a significant raise due to the economic situation many of the teams seem to be in. Besides the Yankees signings last year, nobody got the contract they were expecting. Frankie probably would have gotten an even crazier amount any other year. That of course doesn't explain how Ollie got 3/36, but we're all aware of Omar's stupidity. I also tried to base my decisions on what already happened, so the Castillo, Overbay, Bradley deal was not included, and even worse, I couldn't non-tender Francouer. A big part of this plan is to build all around depth, in addition to a solid starting lineup. Should we have injuries like last year, we'd still be screwed, but for the most part, I have solid back ups at every position. Lastly, looking at Cot's it says we have ~$92 million payroll before arbitration, so I guessed, with no idea at all, that after arbitration we'd have a payroll of $100 million, so I'm working with $50 million dollars.
Apologies for the length and bad jokes/sarcasm.

Catcher
Schneider is gone, hallelujah, but Santos is here to stay. I'd feel so much better about this if Castro was the backup, but oh well. Like many of us, I want no part of Molina, we have one catcher who'll struggle to get to a .300 OBP, why do we need another one? Barajas is in the same boat as is Olivo. As great as it would be to have confidence in Thole, it still seems like he could use another season in AAA, more to fine tune his defense as I think he'd be a capable hitter in the majors. There really is no obvious choice here, but Zaun should be a fine stopgap. He's pretty old for catcher, 39 is old for any position really, but he should be very good assuming he is used correctly, and as long as he brings his Z-Game. Being that he is extremely old, he should be very affordable. $1.5 million was salary last year and will probably be again this year.

Zaun only played 90 games last year, and he shouldn't play much more that in 2010. He has a career wOBA of .323 which is near league average, and a league average hitter at catcher is a valuable commodity. In 2009 he played very well with a .334 wOBA so it's not like he's in a decline. Also, the fact that Zaun is a switch hitter makes it easier to platoon with Santos because Jerry is Burns-esque when it comes to "playing the percentages." He's not a great option, but Zaun is probably the best one out there. If only Mauer was a free agent. Sigh.

First Base
This really is a weak free agent class. If the Mets want to contend in 2010, Murphy cannot be starting in Citi Field come opening day. With I Like Ike™ waiting in the minors, there needs to be a stopgap so I'm not looking at Gonzalez or Pena. Personally, I really like Nick Johnson. He had a solid year offensively with a .373 wOBA, right in line with his career mark of .371, so he looks to be fine after all his injuries. His defense is a concern after posting a -5.6 UZR in 2009, however his career UZR/150 is 3.7 and Beyond The Boxscore projects a reasonable -1.6 in the coming year. Hopefully he could be had on a one year deal worth $5 million. That gives us flexibility come 2011 and doesn't kill us this off season. For anyone concerned with his injury history, I have an answer for that in the one trade I'm proposing.

Second Base
Castillo really made this entire plan more difficult than it had to be. I like him more than most do, but his atrocious defense cannot be tolerated on this team any longer. The trade is perhaps a little out there, and probably unlikely, but I would like to swap him for Casey Blake from the Dodgers. Blake is a good right handed bat off the bench, and he plays a multitude of positions need be. He was one of the better fielding third baseman in 2009, so he's great to have when Wright needs to rest two, three times during the year, he can play first and even the corners in a pinch. As much as we like to think GMs are blind to everything, Colletti probably understands that Blake was lucky due to his BABIP being .30 points higher than usual. The Dodgers do have DeWitt to play third who is a good fielder and great on base guy, so it's not like this is completely useless for the Dodgers. Of course a one for one deal is out of the question, so we'd have to give up something. Blake and Castillo both make $6 million this year and ~$6 million next, so we'd have to send cash, perhaps $3 million be enough. (I did not include that in my final payroll, I'm don't know if it counts toward it) In addition, we'd have to send some prospects, nobody too high up, Blake is a 36 year old after all, so I'd guess/hope Duda or Lutz and Moviel or Beaulac would be enough (Maybe some combination of three of those? I don't want to give up Nieuwenhuis or Tejada or anyone like that.). I bad with trades, so I'm not really sure.

Now with second, hopefully, open, I've been convinced Lopez is the best option. He had a career year in 2009, so he might be more expensive than he's actually worth. $5 million per year over two years should be good enough to nab him though. He's a solid glove, 7.8 UZR at second last year and a 2.6 UZR/150 at second for his career. He projects a 2.0 UZR next season which is a huge upgrade from Castillo, something Pelfrey will be thankful for. His bat is solid, and worst case, he should be capable at getting on base at a slightly above average clip.

Third Base
Though he has not a single piece of grission within his heart, and always chokes in the big spot, I'll settle with the superstar we have on the team.

Shortstop
Same as with the third baseman, this injury prone slacker, who according to numerous fake interviews is despised by his teammates will have to do. I just wish we could see how this team would do one season without him on the field so people could understand the detriment of this perennial 5 WAR player.

Left Field
I am one of the biggest proponents of Matt Holliday on the Mets, and he his my choice here, but I have to say that I am worried that signing him will hurt the team long term financially, mainly when it comes time to re-sign Reyes and Wright. Anyway, adding Matt Holliday instantly upgrades every aspect of the team. He has an excellent bat and a solid glove, despite his groi-ial miscue in the playoffs. As I said earlier, I'm being conservative on the contracts, but I think $17.5 million a year is very reasonable. Teixeira got eight years, $180 million, but there is no way Holliday gets a similar deal. Firstly, no one would be paying that kind of money to Teixeira other than the Yankees, so as long as they're not interested, Holliday's price tag should be lower. Secondly, Holliday is a year older when he reached the free agent market and he is not as highly regarded as Teixeira was. I wouldn't go any higher than six years on Holliday, so this deal is a six year, $106 million dollar deal. I think he'll put up between 4.5-5.5 WAR seasons for the nest two or three years, which would be great for the near future. His career .400 wOBA would instantly add a fourth superstar to the lineup, and would have gotten us to the playoffs in 07 and 08.

Center Field
There is no doubt that even after his injury, Carlos Beltran was able to return to form in September, once again roaming the outfield as lazily as possible, not hustling to a single ball. Only two more years on his contract, let's pray the Braves buyout McLouth's contract so we can sign a real center fielder in 2012. I bet he can hit a curveball.

Right Field
Jeff Francoeur is a fad right now for Mets fans, he is also a rock according to the wonderful writers of this site. I can therefore only conclude that Jeff Francoeur is a pet rock. I do not want him on my team, I do not like him on my team, but since he is here, he's on my bench. Mr. Angel Pagan, congratulations, you are starting in right field from my 2010 New York Mets. Pagan was a better hitter last year than Francoeur for the Mets and much better if you include Francouer's numbers with the Braves. Though Francoeur's projected 1.5 UZR in right field is slightly better than Pagan's 0.6 in left, I'd be surprised if Pagan isn't the bigger assets in the field next season.

Starting Pitching
Johan is the only sure thing we have right now pitching wise. Pelfrey is solid and should be better with Reyes and Lopez over Cora and Castillo and hopefully an improved season at third from David Wright. Oliver Perez is of course on the team with one of the most ridiculous contracts in baseball. At least can't be any worse, right? Pitching is really where I make my two high risk, high reward moves. There are some durable guys out on the market, but Joel Pineiro is going to make way to much money after one really good year so it would be wise two pass. The two guys I'd go after are potentially the two best available, both Harden and Sheets. Both should be offered one year deals with a team option for a second.

For Harden, who came off a solid healthy year, a one year deal at $8 million with an option for around $11 million is fair for both sides. If Harden didn't have an injury history, he'd almost assuredly be offered much more, but $8 million should be enough to get him in orange and blue, while not being too expensive should he get hurt. Harden is a big strikeout guy, 10.91 K/9 this year, but he also walks a lot of batters evidenced by his 4.28 BB/9 this year and career BB/9 of 3.93. His FIP was pretty high this year as well at 4.35, but it was probably due to his BABIP being .20 points higher than his career average of .284.
Sheets is probably the bigger gamble right now. After missing the entire 2009 season, and his injury history, he is very risky. Still, with four slots filled, Maine in the bullpen (that's next) and Jon Niese waiting in the minors, he is worth the risk at $6 million and a $10 million option. Sheets isn't the strikeout guy Harden is, but he doesn't walk as many batters either. For his career, Sheets strikeout numbers are still very good at 7.60 K/9, while is walk rate is spectacular at 1.97 BB/9.

Overall, I think at best we'd have three guys who can be frontline pitchers in the league. Should one go down or underperform, I'm confident Maine or Niese could step in and pitch admirably for the Mets, however if both flop, then the pitching would no doubt be in trouble. On the bright side, when Wright, Reyes and Beltran were playing wonderfully from 06-08 they were able to overshadow much of the bad pitching. With Holliday added to those three, the offense might be able to carry the team if needed to. This is a gamble worth taking.

Bullpen
For the most part, the bullpen will carry over from last year. Frankie will close, Sean Green and Bobby Parnell will still be integral parts, and Feliciano, who has been the constant in there, will of course remain. As much as we all love Socks, I had some money left over when I planned this out, so he was a casualty, though he'd still be excellent depth for the club pitching in the minors. As I said before, Maine would go to the pen to be the long man. A major part of this plan is depth, so should he be needed in the rotation, he can make the move, but he seems like he'd be perfect for the pen. The two major additions are Kiko Calero for two years, $5 million and Mike Gonzalez at two years, $6 million dollars. Calero is coming off a great season where he was worth 1.4 WAR, which is brilliant for a relief pitcher. For his career he's struck out a batter an inning, though he is prone to walking batters.

Gonzalez was the last addition. $3 million a year would actually be a pay cut, so this may be a stretch, but it's hard to see where a team would pay much more than that for a reliever with an injury history. He is very similar to Calero in that he'll strike a lot of batters out while walking a lot as well. With Gonzalez we get a left handed reliever whose fastball is consistently at around 92 MPH. For his career, he's held lefties to a .201 batting average, and that will be useful against guys like Utley, Howard, Ibanez, McCann, and any other lefty batter. He's also really good against right handers, holding them to a mere .213. If he can be had for $6 million over two years, that would be wonderful.

Bench
Last but not least, well actually yeah least, it's not like it matters much. It's not like the AL where there are no tactical decisions to be made, but it's not nearly as important as the other three parts of the team. Anyway, we already know three of the guys here, Omir Santos, Jeff Francoeur and Casey Blake. If we really did get Blake and Johnson, the best bet would be to use them in a platoon. They're both good hitters and Blake mashes lefties, but since you face more righties than lefties, Johnson would start. The two remaining roster spots would go to defensive specialists Adam Everett and Endy Chavez. We all know about these two guy's defensive prowess, but just to emphasize, over their respective careers Everett has a career UZR/150 of 18.3 at shortstop and Endy had a career UZR/150 of 15.7 in the out field, that's amazing. Both would get two year deals, Everett at $1 million per and Endy, coming off of injury, $500,000 in the first year, $750,000 in the second.

This is a really solid team, there is no doubt about it, but the best part about this is the depth we have on the team and in the minors. Casey Blake can fill in at first, third, left and right, Endy can provide wonderful defense in center, Everett is a premier fielder up the middle, (though he's never played second, everyone just assumes). In Buffalo, the team is filled with young productive talent, Murphy, Evans, Fernando, Tejada, Davis, Thole, and Carter. Should we need pitching, Maine can come from out of the bullpen, Niese will be in Buffalo and Mejia and/or Holt may join him by the middle of the season. I will admit that some of these offers may be low, and the Blake trade is unlikely, but none of it is completely absurd. And really, that trade is more to get rid of Castillo than it is to get Blake. I don't know what the best plan is, but I can't wait to hear any (positive) feedback. Again, apologies for the length and poor attempt at humor.

Bold names are new acquisitions
All stats in charts are from FanGraphs with 2010 UZR exception
Contract info was recieved from Cot's
And for anyone curious why I wrote out "wOBA," "UZR," and "WAR," when it's already in a column that says what it is, I just thought it looked better.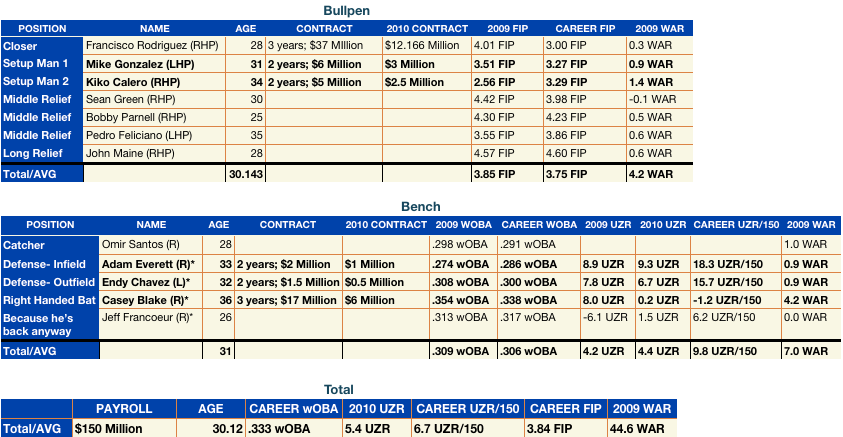 *All ages are as of Opening day unless I screwed up the math

*2010 UZR are projected from Beyond the Boxscore

*Pagan's projection is for left field only

*Sheets' numbers are from his 2008 season
*Everett's UZR totals are shortstop only
*Chavez's UZR totals are for all three outfield positions
*Blake's UZR totals are for third base. He is in the second year of his contract and makes $5.25 million in 2011.
*I really don't like Jeff Francoeur