I went to the Saturday and Sunday games with my mother who is as big a Mets' fan as I. Nationals Park is great, $200 on stubhub for seats third row, section B, right behind the plate. It's great being that close, plus it includes a pre game buffett, and then all you can eat and drink in seat service. Saw Ray Knight waiting for the elevator Sunday, said, "hey Ray Knight, still got love for ya even if you are working for the enemy." He is much taller in person than I expected. Saw Howie Rose on Saturday and he looks thinner than I expected. My mother saw Wayne Hagen but I missed him.
On Saturday with the game sucking I gave Brian Runge a few loud heckles including a "Runge you suck" after Maine blew up and I could discern through Atbat that he had been squeezing him. Anyone else remember this: ? He obviously has some problem with the Mets.
Feel free to take and use these pics as you will, just credit them to me and dont' try and make money off them. If you want larger files lmk.
Here is where i sat, great seats, within earshot of the plate
Maine during the first inning Saturday, all downhill from here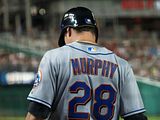 Church talking to some lady before the Sunday game(pretty sure it's Church); I like the I LUV NY shirt.
Keith in the booth two hours before the game.
National Anthem, "Jerry, why you looking at me? hmm, I do have a short swing!"
Livan looking hungry
Livan was the only player to talk to the fans during the game, everyone else kept their back to us. Yeah Livan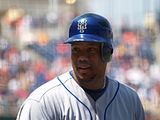 The next few speak for themselves,
Getting ready to lead off
Beltan's single in the 8th
PIITB,
Yeah right, there's no issues with Church and Manuel! Just wish I could see whether they are shaking hands because Manuel sure looks like he's leaning away from Ryan. That's gangsta!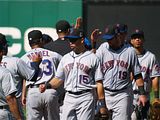 Notice how everyone follows Beltran, He is The Man.