Have I mentioned that riding on the outer fringes of traditional media has its perks? You may remember last season I was lucky enough to take part in a Citi Field first, a tour of some of the best culinary options that the ballpark has to offer.
Well, last week I was invited back for Round Two, which highlighted the newest and most interesting gustatory treats that Mets fans will be able to find around the park in 2012. Citi Field's Executive Chef Robert Flowers and his team of highly trained cooks emphasized the importance they placed on developing innovative new options for the coming season, and let me be the first to say they did not disappoint.
However, before we dive into the feeding frenzy that was my night I should point out that this year's festivities were quite different than before. For one, this year was more of a media event. Numerous Mets higher-ups, all sorts of media outlets, hell there were various foodies there that wouldn't know the Mets from a hole in a bagel. A far more formal affair, complete with Mr. Met-head cake.
Additionally, instead of an informal walking tour they decked out the Delta Sky360 Club and provided helping upon helping of foods from all over the stadium in one centralized location. Actually, it featured miniature versions of all the food we could expect, literally piled in delicious stacks all over the room. It kind of felt like this:
Of course, this provided a much better context in which to make a fool of myself. But embarrassing myself in front of the masses was a risk I was willing to take; I knew the stakes when I signed up for this thing/skipped breakfast and lunch in preparation.
So let's get to the actual food. Once again, we'll be rating all of our fancy, newfangled ballpark fare against the old standard, the hot dog. Five dogs = great, one dog = not great. Simple enough. Now let's get started as we had a whole lot more to scarf down this year -- and to be clear, I ate everything (I'm worried what you just read was, "I ate a lot". What I said was "I ate everything").
First up on the chopping block was the Pastrachos. Those little shavings of meat you see on those nachos, that's pastrami. That's right, I said pastrami.
Officially they are 'Fresh fried corn tortilla chips, chopped New York pastrami, Swiss cheese sauce, sauerkraut, thousand island dressing and scallions.
These guys really set the stage nicely as it became clear how creative the chefs had been in developing the new flavors for 2012. And speaking of flavors, obviously they were good. Tasty, ideal hand food and any time you can get shredded meat on a cheesy nacho you're in pretty good shape.
Although, I will say that pastrami wouldn't necessarily be my first choice for nacho meat. It still didn't top the traditional ground beef, taco-style nachos you might find at your local bar.
Final Score:
--------------------------------------------------------------------------------------------
Next up was the new vegetarian taco that you can find at the El Verano Taqueria beyond center field. They describe it as a 'soft corn tortilla, roasted Portobello mushrooms, zucchini, corn and Poblano peppers.' And for ease I'll pair this up with the their other new option, the Barbecoa Quesadilla, 'slow-cooked beef with chipotle and guajillo peppers'.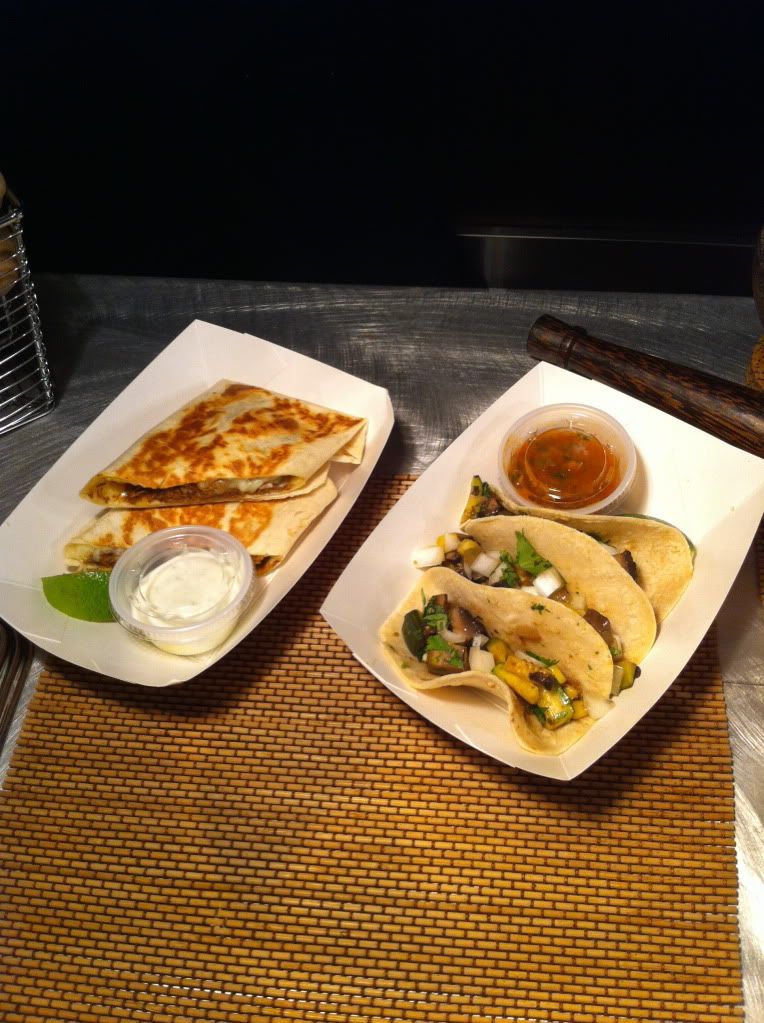 Firstly, the taco wasn't bad considering that I'm pretty much a meatophile. As always, the dipping sauces were outstanding. I can't in good conscience recommend it over their incredible chicken tacos, but it's truly not bad at all. I'm always a fan of Poblanos, and any taco without corn is a taco in name only. My only issue was that -- like most vegetarian dishes I eat -- I just felt like there wasn't enough there.
As for the quesadilla, to be honest I was pretty disappointed. I had high hopes for this guy as meat is always better slow-cooked and it's tough not to put together a good quesadilla. However, I ate a bit before realizing there was one glaring flaw here. Read those ingredients again and you'll see it; no cheese. Seriously? In a quesadilla, whose very name Wikipedia claims is derived from the Spanish word for cheese? Big mistake there, and it was reflected in the one-note taste of the QUESAdilla.
Final Score (for both):
--------------------------------------------------------------------------------------------
Moving on, I hit the representatives of Keith's Grill. As always, the Mex Burger -- Brooklyn Burger, cheddar & jack cheese, bacon, guac, chipotle aioli & jalapenos -- was as delicious as possible. However, this year they've a new offering and it follows in the footsteps of the Taqueria.
In other words, we're looking at a veggie burger. A Harvest Veggie Burger to be precise. And it was like any other veggie burger — bland — reminding me why I don't eat veggie burgers. And for the second time the lack of cheese disturbed me. It wasn't revolting or anything; it was mildly flavorful, but ultimately bland and sort of dry.
Final Score:
--------------------------------------------------------------------------------------------
By now you may be thinking that this night was a disappointment, that Citi Field's top chefs had swung and missed when creating their new dishes for 2012. And then there was the 7-1-Ate Special: 'Hot or sweet Premio sausage, split & grilled, topped with a hash brown, fried egg, slaw & pepper hash on ciabatta'.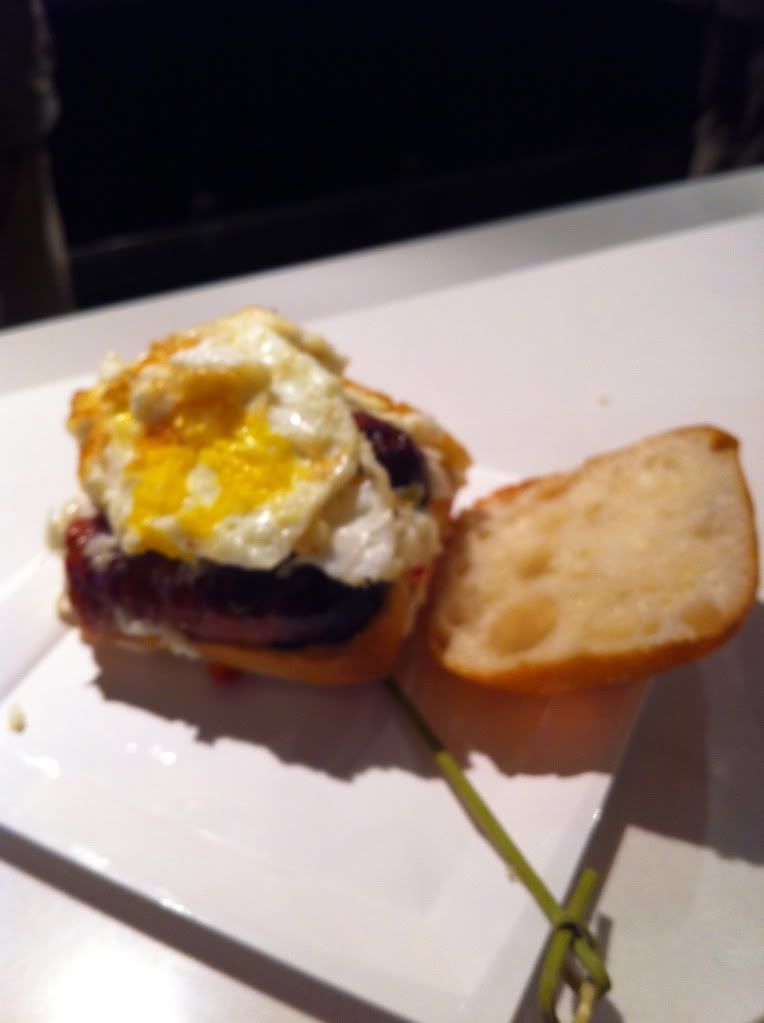 First of all, bonus points on a clever name which leaves room for a delicious sequel, the 5-Oh!-7. Also, I should point out that I'm a sucker for any sandwich with an egg on it, and this one nailed it with a nice, soft, nearly runny fried egg on top.
Then there's the Premio. Anyone that's been to Shea or Citi already knows that a good Premio is a damn good place to start when constructing any sort of ballpark fare. The hash browns underscored the breakfasty flavors and the slaw gave it just the right amount of moisture.
The full-size version definitely doesn't look like it'd be easy to eat at the park, but otherwise this was a surprising, creative, delicious offering. Expect to see me pigging out on one of these in the Promenade Club quite often.
Final Score:
--------------------------------------------------------------------------------------------
I took the momentum I'd found with the 7-1-Ate and kept right on going to the Promenade Club's other ambitious new signature offering, the New Yawkah. I can't say I liked the name quite as much but the list of ingredients was love at first sight: 'Corned beef, topped with sweet potato fries, bacon, pickles, slaw, thousand island dressing served on a pretzel roll'.
I didn't think I'd find an equal to the 7-1-Ate so quickly, but I did. This was one delicious sandwich, with tender corned beef topped with just about everything you could want to put it over the top. The pretzel roll was also a very nice touch, though once again I'd worry about keeping my shirt clean when eating this monster.
As an aside, the sweet potato fries are a new offering themselves, found at Box Frites, though I really urge you to eat them on this sandwich.
Final Score:
--------------------------------------------------------------------------------------------
Moving right along, I decided it was time to sample the cuisine native to my location in the Delta 360Club. In other words, the snootier stuff.
To begin that little smorgasbord I found the Smothered Swedish Meatballs, 'swedish-style meatball served smothered in creamy gravy with focaccia'. Miniature meatballs are a great thing, but I was surprisingly put off by the sort of sweet gravy in which they truly were smothered. The focaccia bread was spot on though.
Final Score:
Next up was the Fried Flounder Sandwich, 'flash fried fresh flounder (bonus points for the alliteration), tomato-parsley salad & guacamole'. Not bad, though I couldn't really taste the guacamole, making this entry no different than the default cod/grouper sandwich you'd find in any pseudo-seafood place.
Final Score: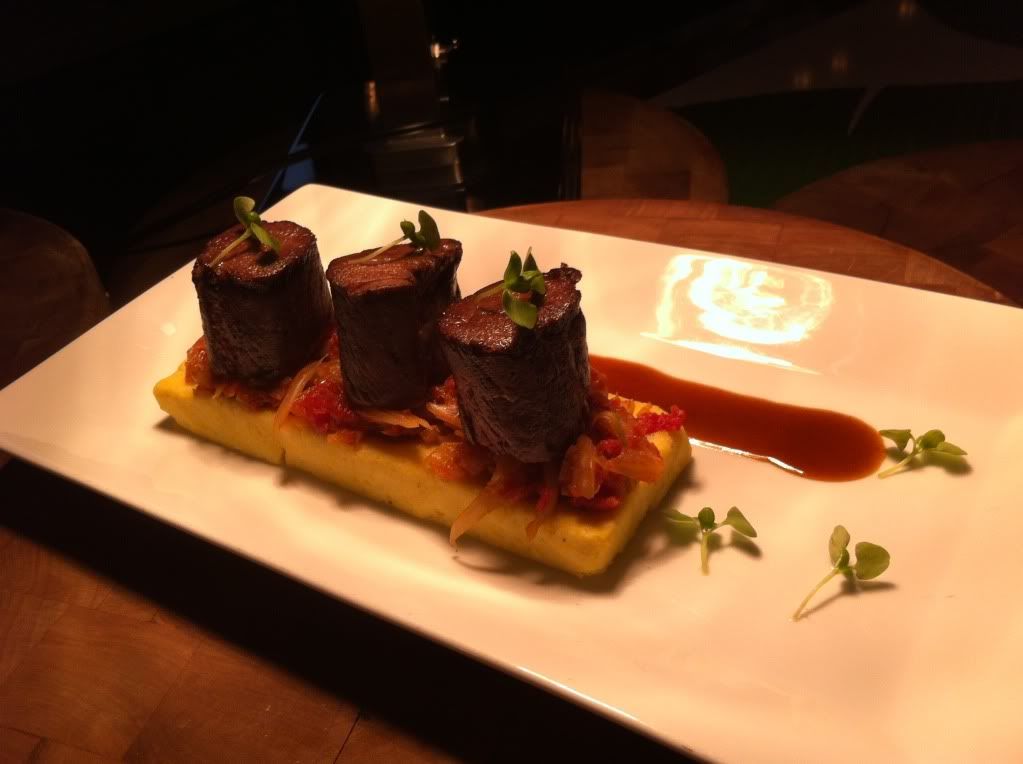 Finally came the Seared Tenderloin Medallions, 'Angus tenderloin, bleu cheese polenta, fennel-tomato ragout, red wine demi-glaze'. It was damn good, especially that bleu cheese polenta it was served over, though by the point that I was pondering the demi-glaze I had lost any sense that I was in a baseball stadium.
This is definitely not ideal finger food, though I suppose it doesn't need to be as you'd have to order it in the sit-down restaurant, but still.
Final Score:
--------------------------------------------------------------------------------------------
Speaking of fancy stuff, we should talk about the Osso Bucco. Yes, that's right, they now offer Pork Osso Bucco up in the Acela Club. Specifically, 'saffron braised pork osso bucco, saffron polenta & olives'.
Now, I've been saying that some of this stuff doesn't quite jibe with the whole ballpark experience, and to be honest, this didn't, either. And to be more honest, it didn't matter. I'm sure it's expensive, too, but I don't care because it's just too damn good.
They're served as lollipops with the meat pretty much falling off the bone. One bite and my strategy of rationing small portions throughout the night was shot. We may not all frequent the Acela Club often, but do yourself a favor and seek this thing out at least once.
Final Score:
--------------------------------------------------------------------------------------------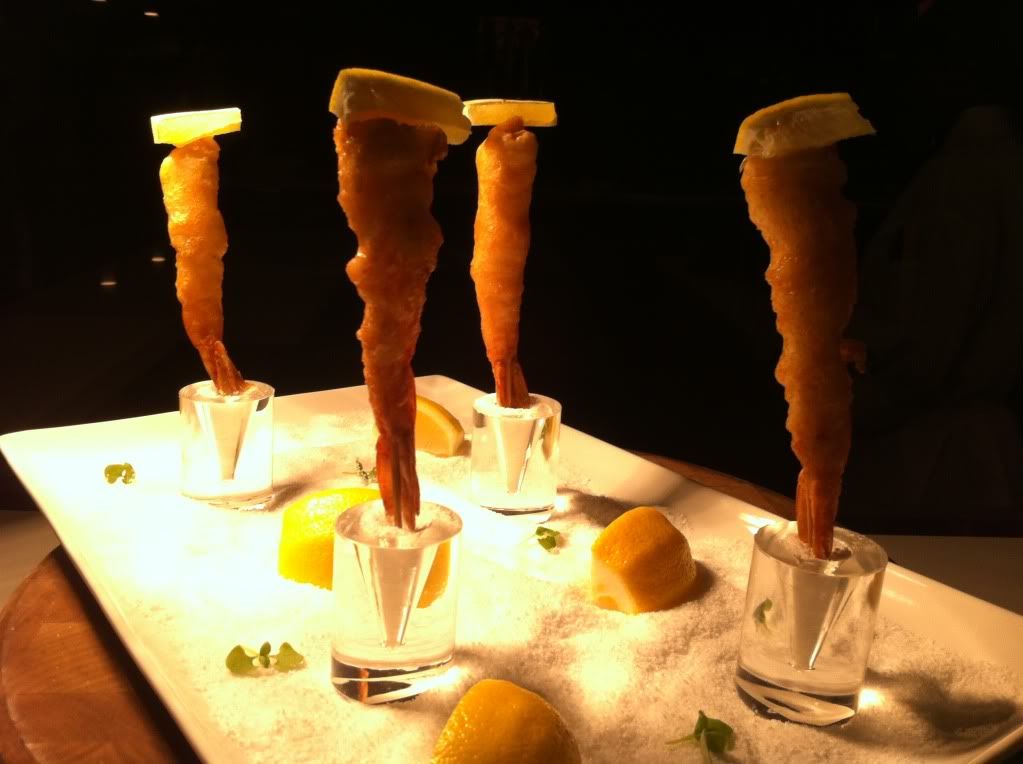 As long as we're dining in the upper echelon we may as well hit up Catch of the Day and their Flash Fried Beer Battered Shrimp Skewers. These are exactly like they sound, 'fresh jumbo shrimp, lager beer batter, lemon and horseradish sauce.'
Presentation was a factor here, and you can't argue with the eatability; this is definitely hand food. All in all a pretty solid option, though I'll say that I'd take the fried popcorn shrimp any day of the week. And just for the record, I'm still waiting to try the famed lobster roll.
Final Score:
--------------------------------------------------------------------------------------------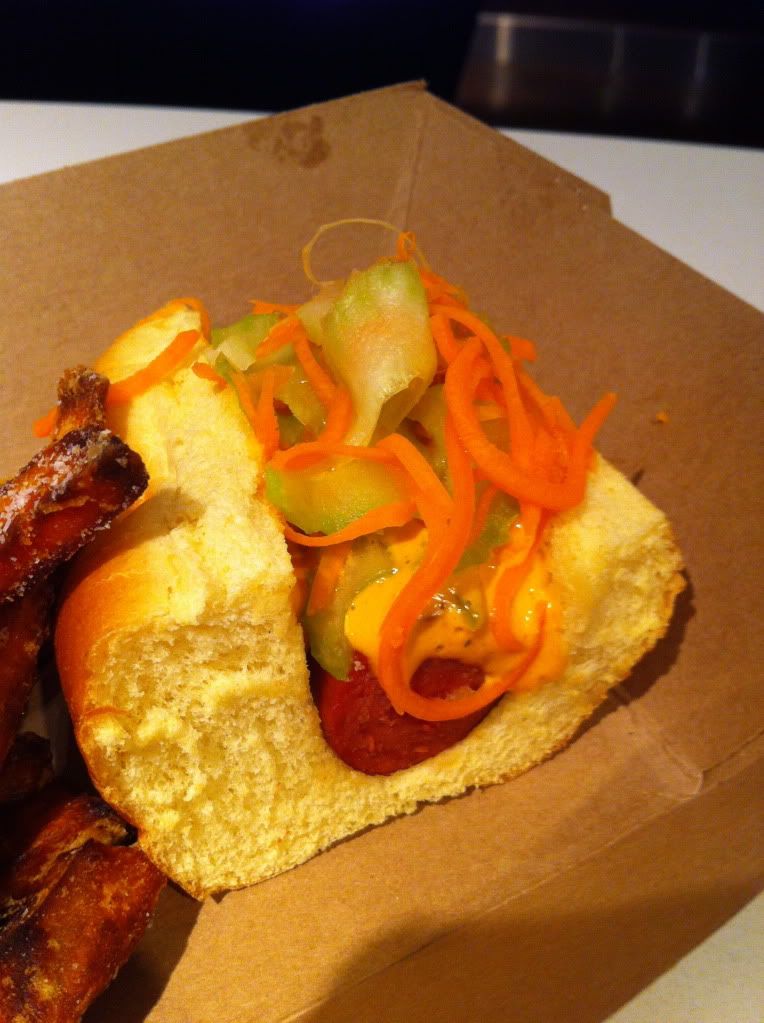 After all of that fine cuisine I needed something to bring me back to my roots as a junk-food-loving slob. One Buffalo Dog, please. That's an 'all beef grilled dog topped with Buffalo blue cheese sauce, pickled carrot and celery'.
Wow, such a simple idea, it's a wonder nobody's thought of this before. And it's a damn shame they hadn't, because this thing was incredible. A great hot dog with just the right amount of spice from the buffalo sauce, just enough crunch from the pickled veggies, just enough blue cheese to keep it cool. Outstanding.
If I could buy stock in any of these new offerings I'd say that this is going to be the big winner of the group. The everyman's option. Simple, easy to eat, as affordable as anything on the list. Prepare yourself for your first game when you should be crushing at least a couple of these things -- do bring some Tums though.
Final Score:
--------------------------------------------------------------------------------------------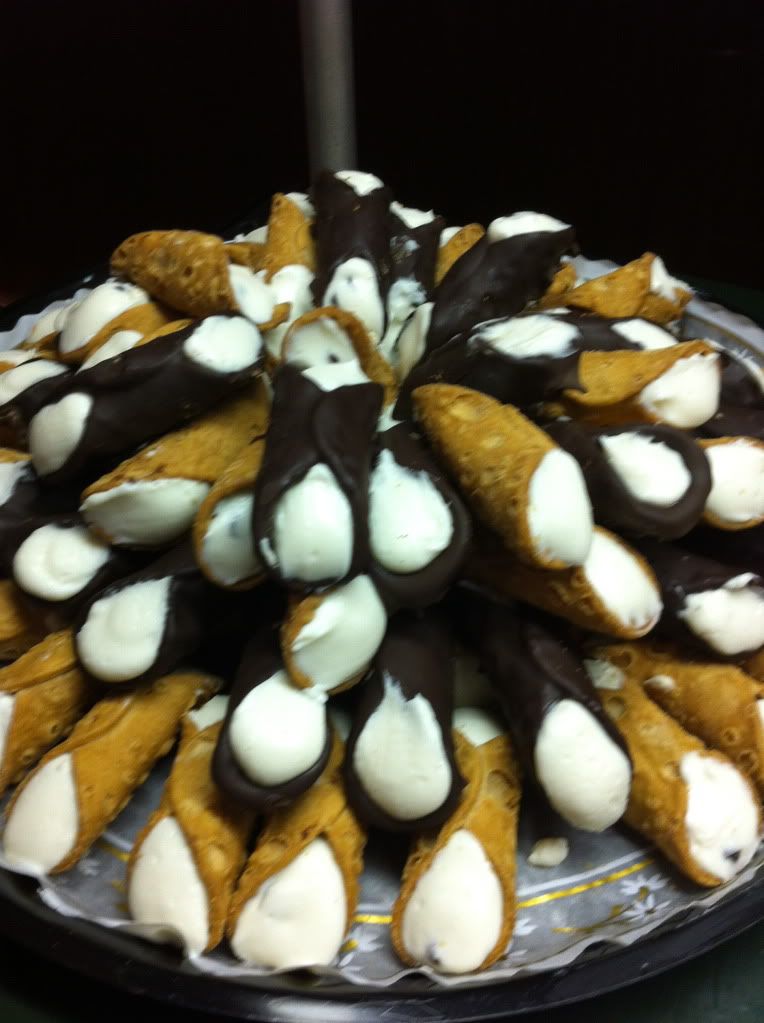 There were a couple more options in there that you'll only find through Aramark's catering arm down at the stadium -- Tuna Tar Tar, Chicken and Waffles -- as well as favorites from the past few seasons -- Daruma's excellent Sushi, some delicious cupcakes from Mama's of Corona, and of course Mama's Special.
But this day was for new flavors and I was in the mood for dessert, so I decided to stick with Mama's and their exquisite Cannolis. If you find yourself post-seventh inning stretch and hankering for something sweet, get one of these. Seriously, forget about the ice cream in a mini helmet.
Final Score:
Just when I thought I was finished I caught wind of the Banana Bread Pudding. A dessert option you'll be able to find in most of the clubs around the park, this is 'warm banana bread pudding with spiced caramel and Chantilly cream'.
This thing is going to be big on either end of the season when the air gets crisp and the hot chocolate is flowing. I'm not entirely sure what Chantilly cream is, but there was just enough sweetness and spice to make this absolutely delicious. In fact, I have to say that in terms of its strength as an individual offering, dessert or not this guy could stack up with almost anything I sampled.
Final Score:
--------------------------------------------------------------------------------------------
Finally, I had reached the breaking point. And then I had another Banana Bread Pudding.
Game over.
Now there was still plenty of food (ok I didn't eat everything), some of which I hadn't even tried yet -- I'm coming for you Fried Pies from Box Frites. But no amount of psyching myself up could bring me to eat any more of it. Not another bite. I had become everything I'd ever hated:
In the interest of full disclosure, yes, I suffered the morning after this monstrosity of decadence. But hey, I'm willing to take one for the team. Anything for our readers.
PS - Last year there was quite a bit of chatter regarding the adult beverage offerings. As such, you can find the complete Citi Field beer list here.