The improvement Noah Syndergaard's slider has made in one offseason working with Dan Warthen has been massive. It's added about 3 miles per hour in average velocity, from just under 89 mph to just over 92 mph, and is topping out at 95 mph. To say his slider has created some buzz on the internet would be an understatement. Two well respected baseball evaluators, Ben Badler and Keith Law, had high praise for the pitch, with Law saying he's never even heard of a 95 mph slider before.
It's probably the hardest slider for a starting pitcher in baseball history—or at least it is in the PitchF/X era. The next closest measured by PitchF/X among starters is Jake Arrieta's 2015 slider velocity, which sat at about 90.3 mph. Clay Buccholz (2010) came in at just under 90 mph, and Mets teammates Matt Harvey (2013) and Jacob deGrom (2015) finish out the top 5, at 89.7 and 89.6 mph, respectively.
Syndergaard's slider was so hard in his first start of 2016 against the Royals that PitchF/X routinely classified it as a four-seam fastball. I counted seven mistakes from the Royals game on sliders ranging from 93-95 mph that were logged as four-seamers.
As Badler pointed out, his slider has late, sharp break, which adds to the deception of the pitch. If the slider looks the same as a fastball coming out of his hand, it gives the batter less time to figure out where the pitch is going, which makes it tough to make contact, let alone barrel it up.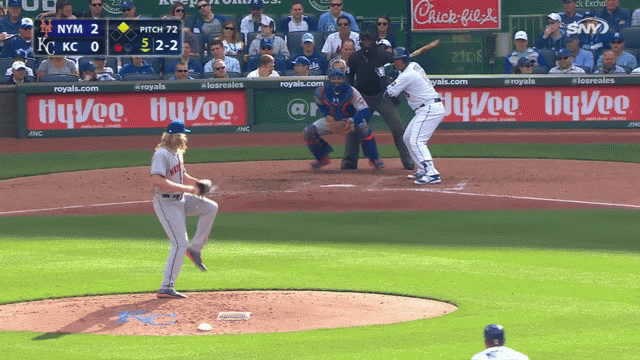 It's not even just the ferociousness or deception of the pitch that makes it great, either; Syndergaard commands it well, too. Here's a look at a slider from directly behind the pitcher's mound: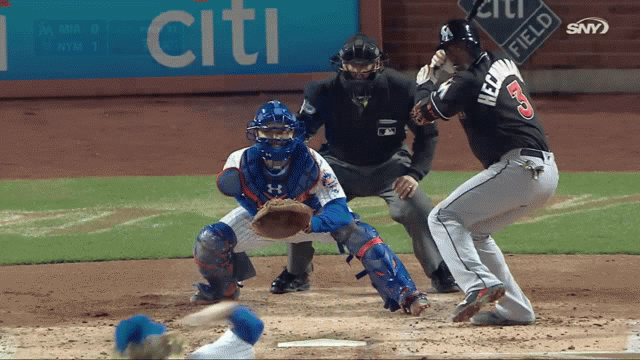 It's easy to see why hitters can't lay off it with two strikes. It starts knee high on the outer-third of the plate and ends up near the left handed batter's box. It's hard to locate a slider better than that with two strikes.
Syndergaard has thrown 191 pitches in 2016, and 47 have been sliders. It's only been put into play six times—with just one hit, a soft single by Lorenzo Cain—and all batters have had very poor contact on it. The other balls put in play against his slider were either weak ground outs or pop ups.
| Exit velocity | Launch angle | Outcome |
| --- | --- | --- |
| 67 mph | -33 degrees | Ground out |
| 83 mph | -19 degrees | Ground out |
| 62 mph | -60 degrees | Ground out |
| 69 mph | 15 degrees | Single |
| n/a | n/a | Pop up |
| n/a | n/a | Ground out |
Out of 47 sliders Syndergaard has thrown, he's generated 16 swinging strikes (34%), well above the major league average of about 15% on the pitch, and up from his 24% rate during last year's playoffs, when it sat at about 88.8 mph.
Adding consistent 92 mph slider usage to his five-pitch mix—a four-seam fastball, two-seam fastball, curveball, changeup, and the slider—has taken him to new heights. He's got a ridiculous 42% strikeout rate through two starts, and one of those came against the Royals, who are notorious for putting the ball in play. His swinging strike rate is just about 20%, which is something you'd expect from a high-octane reliever like Aroldis Chapman, not a starting pitcher who has to go through a lineup multiple times. The amount of purely defensive swings hitters have been taking at him is startling. And he's only walked two out of 50 batters, Eric Hosmer and Giancarlo Stanton, both of which appeared to be "unintentional intentional" walks rather than any type of control loss.
After Syndergaard's second start, Badler tweeted, "Syndergaard has stuff I've never seen anyone throw before. He's holding it throughout the game and locating wherever he wants. It's absurd."
It sounds like we might see some statistics we've never seen before at the end of the year, too.