On March 8, Matt Harvey sat at an incredibly easy, effortless 95-97 mph on his fastball during his first spring training start in Disney, per the stadium gun. He topped out at 99, and opposing batters were buzzing about how nasty his slider was. In his next start against the Marlins in Jupiter, Harvey uncorked this ridiculous 91 mile-per-hour slider that sent social media into a frenzy: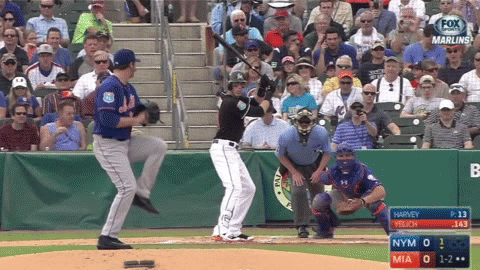 Harvey looked incredible in early-to-mid-March. The Mets were raving about his slider and how it picked up spin from where it was last spring coming off Tommy John surgery. Harvey had a ligament taken from his throwing wrist to reconstruct his elbow, which he felt weakened his wrist and made it difficult to spin his slider. After focusing on wrist strength this offseason, Harvey had a much better feel for his slider, and the pitch looked amazing again. The Mets also noted that the late explosion on Harvey's fastball, which wasn't quite there in 2015 despite high-end velocity readings, was back again.
Harvey looked so good early in March that pitching coach Dan Warthen, who has a reputation among reporters as being a straight shooter, told the Daily News that he thought Harvey would compete for the best pitcher in baseball this season. Harvey certainly was in that mix for best pitcher in the sport during his 2013 season before it came to an end because of his elbow injury.
Something has changed since early March, though, when Harvey's stuff looked electric. Now three starts into the 2016 regular season, Harvey's velocity is down from where it was in early spring, and his slider doesn't look as good.
He is not missing bats like he normally does. He only has 9 strikeouts through 75 batters faced, a 12% strikeout rate. His career strikeout rate is 26%. Some research indicates strikeout rate stabilizes around 70 batters faced, making the sample a reasonably reliable indicator of how he's performed so far for strikeouts. He has the same number of strikeouts through three starts as he did against the Royals in Game 5 of the World Series alone.
His swinging strike rate is down and his contact rate is up. Batters are also making more contact on pitches outside of the strike zone than normal. Those statistics align with his stuff not looking quite right.
| Year | SwStr% | Contact% |
| --- | --- | --- |
| 2013 | 12.6% | 74.7% |
| 2015 | 11.6% | 75.7% |
| 2016 | 8.3% | 83.1% |
| Career | 11.9% | 75.6% |
| MLB avg for SP | 9.3% | 80.1% |
In two out of his three starts, Harvey has had problems holding his velocity. On opening night, Harvey's fastball sat at 95.3 mph through the first three innings, but it fell to 93.1 in the sixth around the 70 pitch mark. In Saturday's start against the Indians, Harvey's fastball sat at 94.0 in the first inning, but fell to 92.3 by his last.
Warthen thinks Harvey's problems are mechanical. He told reporters that Harvey is collapsing on his back leg rather than standing taller, which is causing Harvey to muscle the ball rather than throw it in a fluid motion. Warthen also said that Harvey is tensing up and trying to throw too hard.
When asked if last year's large workload coming off surgery is affecting him, Harvey said he doesn't know, but insisted that he feels fine. Whatever is the case, Matt Harvey hasn't been himself over these three starts, a big change from how electric he looked just five weeks ago.