Noah Syndergaard's repertoire just keeps rapidly improving at the big league level, and the latest development in a start against the Royals yesterday nearly broke the internet.
But first, here's an overview of what he's added in the last year, with some visuals. In May of 2015, he added a ridiculous two seamer in a bullpen session before a start against the Phillies. The pitch moves so much at such a high velocity that it's very difficult to square up, and Syndergaard often throws it at the front hip of lefties to back them off the plate before having it run back over the inside edge.
His fastball kept improving, adding about 1.5 mph in average velocity in the postseason, and the increased speed has carried over into his first start of 2016. Syndergaard averaged over 98 mph with his fastball yesterday against the Royals and dialed it up to 100 mph on multiple occasions.
As 2015 went along, Syndergaard's curve got sharper and nastier. He said that the dry the environment in Triple-A Las Vegas made it difficult to throw the pitch, particularly because of how slick the baseballs were. This biting curve with late break is from the infamous Alcides Escobar at bat in Game 3 of the World Series:
He became more comfortable throwing his changeup, which had improvements in command, movement, and velocity. Through his first eight major league starts, his change averaged about 87 mph. In the playoffs, Syndergaard was averaging about 89 mph with the pitch, a 2 mph increase. This perfectly-commanded change up with 12 inches of tail wipes out Kyle Schwarber in the NLCS: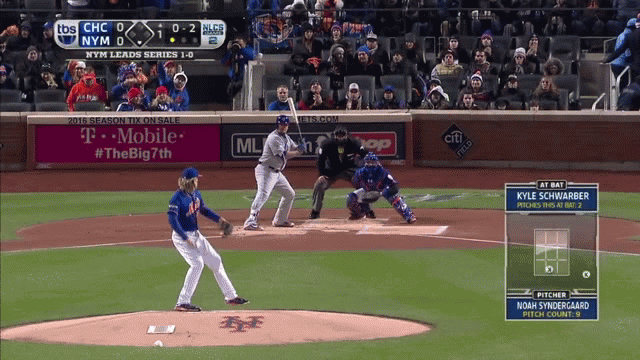 Like his fastball, Syndergaard's added velocity on his changeup has carried over to his first start of 2016. In yesterday's start against the Royals, it averaged just under 91 mph, and he looked comfortable throwing it in all different counts. Lorenzo Cain couldn't hold up on this 91 mph, 2-2 changeup in the dirt:
In the second half of 2015, Syndergaard started experimenting with the deadly Warthen Slider, and he ramped up its use in the playoffs. The pitch averaged just under 89 mph and got up to 92 mph. He threw it about 15% of the time in playoff games against the Dodgers and Royals, but didn't really use it against the Cubs. He threw it slightly more often against lefties than righties.
Syndergaard worked on the pitch all spring, making a point to throw it often in his spring starts, and yesterday, the slider showcased a huge increase in velocity from last season. Syndergaard averaged about 92 mph with the slider, and what got a lot of buzz is that it topped out at an obscene 95 mph.
This 92 mph slider strikes out Sal Perez: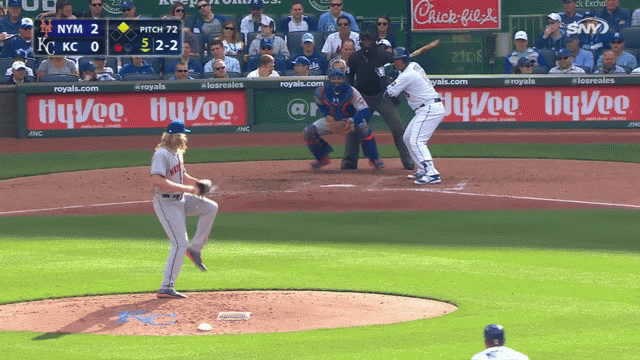 In the most impressive feat of the game, Thor struck out Kendrys Morales on 3 pitches—3 straight sliders—clocked at 95 mph, 93 mph and 93 mph. Here is the strikeout:
And here is the 95 mph slider:
Royals manager Ned Yost said post game that no man alive could hit the three sliders that Syndergaard threw to Morales:
Ned Yost on these sliders: "There's not a man on this earth that I believe could hit any of those pitches." https://t.co/ZRkCdGQEP8

— Rustin Dodd (@rustindodd) April 6, 2016
Yost added,
"I don't think I have ever seen a 95-mph slider. George Brett was in here and I asked him if he could have hit that, and he said no way."
The slider was so obscene that it broke PitchF/X, which listed it as a 95 mph four seam fastball. Gameday routinely confused his hard slider with a fastball, and I saw at least six errors on sliders ranging from 93-95 mph, mistakenly labeling them as four seam fastballs.
Thor terrorized not only Royals hitters with the hard slider, but also some people on the internet:
I am scared, 8 years removed from a competitive baseball game, sitting on a couch in Brooklyn. Legit scared https://t.co/DuMr68Xn1W

— Dan Canobbio (@DanCanobbio) April 6, 2016
According to Syndergaard, part of what makes his slider so effective is that it looks like a fastball to hitters at first before breaking late. It's also thrown like a fastball, but with a different grip, so it's supposedly easier on the elbow than a traditional slider.
Syndergaard's long extension towards the plate also makes his pitches play up even faster than they're clocked at out of his hand, because the extension allows Syndergaard to release the ball closer to home plate than the average pitcher. This is termed perceived velocity, and it's a new metric measured by Statcast. Syndergaard's extension of about 7 feet makes his fastball play up about 1 mph faster in hitter perception. There's a chance his 95 mph slider felt like it was closer to 96 mph.
Syndergaard faced 23 Royals yesterday. He struck out nine of them, walked only one (which he said after the game was intentional), induced two pop-ups, seven ground balls, and allowed only two well-hit balls, a triple to Alcides Escobar and a double to Kendrys Morales.
If this is the new version of Noah Syndergaard going forward, he's going to be the best pitcher on a staff filled with stars, which is incredible considering how successful Matt Harvey and Jacob deGrom have been to this point in their careers.