Matt Harvey is not quite his usual, excellent self yet this year. His ERA sits at an incredibly un-Harvey like 4.93. He had a 2.53 career ERA before 2016, good for a run-scoring-environment-adjusted ERA- of 70, which ranks as the 17th-best ERA- for a starting pitcher aged 26 or under since 1950. This year, his ERA- is 129, 18th highest among 2016 qualified starters.
Harvey's fastball and slider velocities are down, and they have also been erratic from start to start. Harvey has alternated encouraging, high velocity starts with lesser velocity starts over his past four outings. Against the Reds and Padres, Harvey averaged about 94.9 mph with his four-seam fastball, which isn't too far off of his 2015 velocity of 95.2 mph. But in starts against the Braves and Rockies, Harvey's four seam fastball velocity fell to 92.9 mph, which is the lowest average velocity reading for any start in his career. Harvey's fastball bottomed out at 90 miles per hour in the fourth inning in his most recent start against the Rockies, which is so out of the ordinary for Harvey that PITCHf/x misclassified it as a slider.
Digging deeper into his struggles, Harvey isn't getting hit overly hard in terms of raw exit speed. According to Statcast, his 87.1 mph average exit velocity against is actually the tenth-best among starting pitchers. He's allowed only 21 batted balls with a 100+ mph exit velocity through eight starts, which is seventh-best among starters who have thrown at least 750 pitches this year, and only one more than Clayton Kershaw (20) had allowed through his first eight starts. Harvey's limiting of high exit speeds has led to only four home runs allowed, good for 0.79 home runs allowed per nine innings pitched, which is better than the major league average of 1.08.
A big part of the problem has been the trajectories opposing batters have been generating. According to Statcast, Harvey has allowed 45 batted balls struck with a launch angle between 10 and 25 degrees—line drives—through his first eight starts, which is the second most in all of baseball. Last year, Harvey allowed 96 batted balls between those angles all year, 18.3% of his total batted balls. This year, that rate has climbed to 30.8% of his total batted balls. The major league average is 21.1%.
Batters have significantly better results when hitting the ball between those angles, even at softer exit speeds. The league has hit .655 with a .633 BABIP on batted balls with a launch angle between 10 and 25 degrees, including a .663 BABIP on batted balls that leave the bat at 85 mph or less between those angles. For a comparison, Clayton Kershaw has allowed only 25 batted balls between those angles through his first eight starts, sixth-lowest among starters, good for a 17.5% rate.
Here are a few visuals of different launch angles between that range.
This is an example of a launch angle of 12 degrees, a line drive off the bat of A.J. Pierzynski:
This is a 16-degree launch angle, off the bat of Mark Reynolds:
This is a 23.5-degree launch angle, off the bat of Jose Ramirez: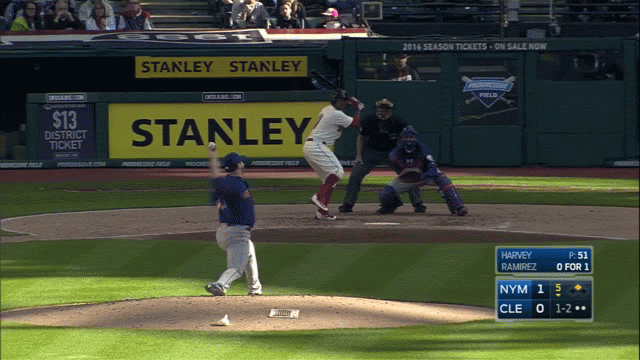 Here's a spray chart of those 10-25 degree vertically launched batted balls allowed by Harvey, along with their outcomes, via baseballsavant.com:
The best type of launch angles for a pitcher to give up are either towards the lower end—weak ground balls—or the upper end—pop-ups to medium-depth fly balls—both of which are easy for fielders to convert into outs. Negative launch angles generate weak ground balls; the league has hit just .169 on launch angles below 0 degrees this year, mostly because the ball slams into the ground at such a downward angle off the bat that it makes it difficult to maintain enough speed to pass through the infield. Launch angles above 40 degrees generate mostly harmless fly balls; the league has hit .040 on angles above 40 degrees this year. The problem is in the middle, where those batted ball angles are more equipped to cut through a defense and find a hole.
This is the pitching concept of missing the sweet spot of the barrel. The ball hitting the bottom of the bat generates those weak grounders, and the ball hitting the top of the bat generates those harmless fly balls. When the ball hits the middle of the barrel, that creates those problematic angles for pitchers.
A decline in pure stuff can make it easier for an opposing hitter to place the best part of the barrel on the ball to generate the best type of batted ball angles for offensive production. With the general inconsistency of Harvey's fastball velocity, occasional loss of sharpness on his sliders, and less precise command of his pitches, it appears that this is at least part of the problem for Harvey this year. Hitters have had an easier time barreling up Harvey's pitches and putting them into play with angles that lead to excellent results.
If Harvey continues to pitch with diminished stuff throughout 2016, he'll have to find different ways to keep hitters from barreling up his pitches, such as improvements in location and mixing up sequencing of pitches to keep batters from anticipating any one particular pitch.