Matt Harvey's slider was once one of the most electrifying pitches in all of baseball. ESPN's Keith Law termed the pitch "toxic" after observing it in attendance during Harvey's debut start in Arizona back in 2012, and added that it was "a grade-70 pitch pretty much all outing".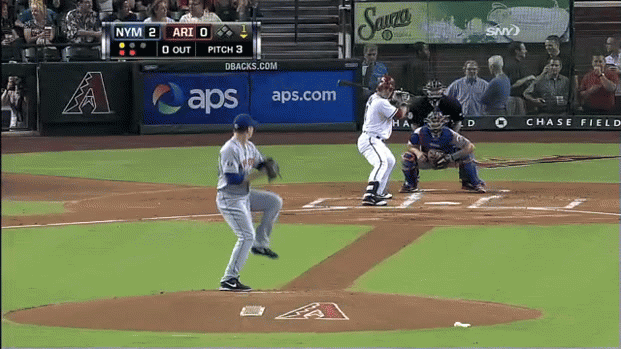 Even early this spring, the pitch was topping out at 91 mph with ferocious break, and appeared to be back to that vintage form after some inconsistency in 2015 after getting elbow surgery. This 91 mph slider thrown to Christian Yelich is from a March 13 start in Jupiter against the Marlins.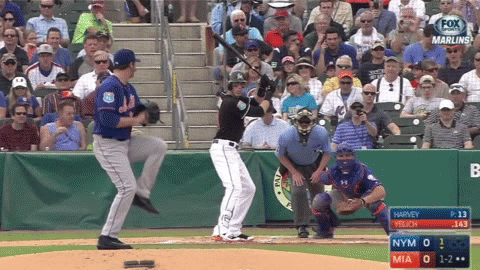 But after his blood clot popped up in late March, the velocity on the pitch is down, and it does not look as nasty. Checking the data on the pitch, something strongly sticks out: This year, hitters are hitting Harvey's slider like never before.
Here's how the pitch has fared based on OPS and isolated power (ISO) against it:
| Season | OPS against | ISO against |
| --- | --- | --- |
| 2013 | .534 | .086 |
| 2015 | .480 | .081 |
| 2016 | 1.193 | .286 |
| Career | .527 | .091 |
Digging deeper, the first thing that jumps out is that his slider velocity is about 2 miles per hour less than it was in 2013, and 1.5 less than it was last year. Harvey's slider velocity averaged 89.7 mph in 2013 and 89.4 mph in 2015. This year, it's down to 87.9 mph. According to PitchF/X, Harvey has thrown only one slider over 90 miles per hour in the 2016 regular season, just 1.2 percent of his total sliders. In 2015, he threw 156 sliders—38.1 percent of his sliders—over 90 mph.
Before this season, Harvey had allowed a home run on sliders only four times in his entire career, spanning 65 starts and over 1,000 sliders thrown. In 2016, he's already allowed two home runs on sliders, spanning just 5 starts and 81 sliders thrown.
The slider hasn't been the same put-away pitch with two strikes. Harvey's career strikeout rate using the slider is 31.4%, with a peak of 35.9% in 2013. This year, his strikeout rate on sliders is just 8.7%.
Batters are also making much more contact on the pitch than normal, including significantly more contact outsize of the strike zone.
| Season | Contact% | O-Contact% |
| --- | --- | --- |
| 2013 | 65.1% | 49.0% |
| 2015 | 63.0% | 45.3% |
| 2016 | 77.8% | 68.2% |
| Career | 66.5% | 50.4% |
The increase in contact, especially contact outside of the strike zone, supports the observation that Harvey's slider just doesn't appear to be as nasty right now as it has been in the past.
In addition to not having that same nasty break, some of Harvey's issues with the pitch have been location-related. This 87 mph slider hung right out over the middle of the plate, and Zack Cozart hit a home run.
Flat sliders in the middle of the plate are a recipe for extra-base hits.
The other home run this year came from Odubel Herrera.
Harvey doesn't get the pitch down and in enough and Herrera drops the barrel on the slider, hitting it 105 mph over the right-center field wall.
The next batter after Herrera, Maikel Franco, singled on a hard line drive off a Harvey slider that ended up here:
It's not clear exactly why Harvey's slider has suddenly fallen off so dramatically. The most logical explanation is that Harvey's medical condition from late March has affected him physically. After all, he was showcasing a ridiculous slider just seven weeks ago, and the most notable change in that time frame was the blood clot.
Perhaps as Harvey distances himself from that issue, he'll regain his electric slider. But until then, it's something to keep an eye on, as the pitch is not the same in terms of velocity or effectiveness.