Noah Syndergaard progressed through 2015 featuring a noticeably improved changeup from past years. In particular, his changeup had improvements in command, movement, and velocity. He became more comfortable with his mixing of it, helping to keep hitters off his fastball.
The velocity on the pitch gradually rose as 2015 went along. According to PITCHf/x, his change up sat 87.2 mph on average in May and June of 2015, his first two months in the big leagues. By August and September, it shot up to 88.5 mph in average velocity, and then exceeded 89 mph in average velocity in the playoffs. Overall, his fastball to change up velocity differential increased from about -11 mph in 2014 to -9 mph in 2015.
And by the playoffs, Syndergaard was commanding his changeup especially well. Here's an example from the NLCS. Syndergaard starts the change up in the strike zone and lets the 12 inches of arm side movement run the pitch out of the zone, nailing Travis d'Arnaud's target.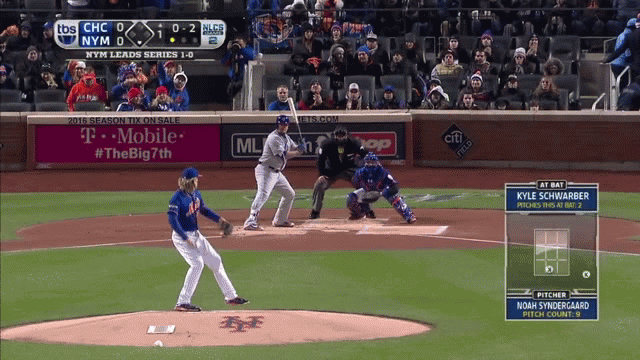 In 2016, Syndergaard's change has become even better, for a variety of reasons. Checking the data on the pitch, a few things stand out. He is getting batters to chase it out of the strike zone more often. Batters are making less contact on it when they swing at it, and it's helped lead to more swinging strikes.
| | | | |
| --- | --- | --- | --- |
| Season | Chase% | Contact% | SwStr% |
| 2016 | 41.2% | 54.8% | 22.6% |
| 2015 | 35.0% | 66.7% | 15.6% |
The average changeup generates a swinging strike rate of 15.1%. Syndergaard's change up sits at 22.6%, well above that number.
Part of the reason his change up has been more effective this year is because his other pitches are better. He is throwing his fastball harder, and he's throwing one of the best sliders a starting pitcher has ever thrown. Batters have less time to react against him now than ever before. But the pitch itself has made legitimate improvements independent of his pitch mix.
For one, his changeup has picked up velocity again. Syndergaard is now averaging about 90 mph with the pitch, an increase in 2 mph from the 2015 regular season.
The average fastball thrown by a starting pitcher is 91.9 mph this year. Syndergaard has thrown 5 changeups harder than that this season, like this one at 92 mph that struck out Todd Frazier: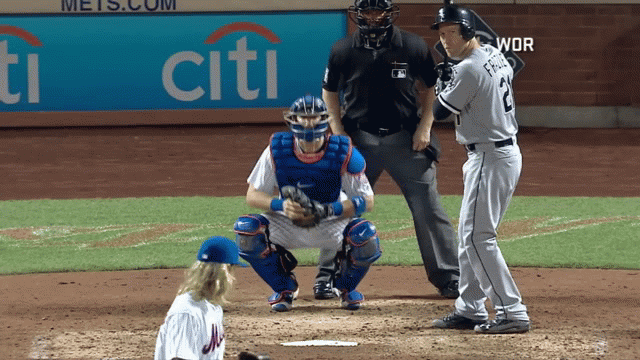 On that pitch, you can see a few factors in what makes his changeup so good aside from the velocity. The bottom drops out of the pitch late. The late movement makes the pitch more deceptive because it looks like a fastball out of his hand. With gravity included, the pitch averages just over 13 inches of vertical drop off his four-seam fastball and 11 inches off his two-seamer.
The pitch is also located well. It's a two-strike count, and Syndergaard starts the changeup at the knees and has it fall below the strike zone. The batter doesn't know if it will stay true at the knees for strike three or have the string pulled on him.
All of the factors above have helped make his change up a better put away pitch in 2016. Last year, Syndergaard threw his change up 62 times in 2 strike counts and registered strikeouts on 13 of them, a 21% strikeout rate. This year, Syndergaard has thrown his change up 33 times in two-strike counts and registered 11 strikeouts, a 33% strikeout rate.
For some perspective on how far he's come along with the pitch, my notes from watching him in the Florida State League in 2013 have him sitting at 83-86 mph on his changeup, and he often had difficultly spotting it well. It didn't appear to have a whole lot of movement, either. In 2016, he's now sitting at 89-92 with good command of it and sharp late movement. The pitch has had massive improvements under the Mets' watch.
Words to describe how good Syndergaard has become are running thin. He just keeps getting better and better at the major league level, and when you think he's reached his ceiling, he goes past that and then some. His ERA sits at 1.91, with his FIP at 1.78. There have only been six starting pitchers to run a FIP below 2.00 in a single season in the live ball era, names like Pedro Martinez, Bob Gibson, Tom Seaver, Sandy Koufax, Dwight Gooden and Clayton Kershaw. Syndergaard has 20 more starts to go to maintain that, but he has the skills to do it.
If it wasn't for the generational lefty in Los Angeles having the greatest season of his career, Syndergaard would probably the favorite for the National League Cy Young award. But maybe we're looking at a generational right-handed pitcher here in New York, one that can battle Kershaw for the Cy Young award in the years to come.