Generally, the harder a ball is hit, the better chance it has at becoming a hit. In addition to limiting walks and generating strikeouts, good pitchers limit well-struck contact, both in terms of velocity off the bat and batted ball angles. Pitchers often generate weak contact through a good pitch mix to keep a hitter off balance by executing good command and deception within their pitch mix, or by having filthy stuff that is difficult to square up.
This sinker thrown by Jeurys Familia to record the final out in Game 3 of the World Series is a good example. It's commanded well to Travis d'Arnaud's target, it has nasty movement, and the hitter takes an off balance swing at it.
Pitchers who are inconsistent with their command and deception, lack a strong pitch mix, or leave hangers in the middle of the plate often are prone to getting hit harder. Think fat mistake pitches located in a hitter's wheelhouse that get punished.
When hard contact is allowed, run scoring becomes more likely. Via Statcast, pitchers who allow batted balls with exit velocities of 100+ mph with a positive launch angle give up hits roughly 70% of the time on those type of batted balls, a .715 batting average against. OPS against soars to over 2.000 with that type of hard contact, with BABIP against at .640. Limiting hard contact can makes less likely that a pitcher gives up hits and runs.
For some examples of what 100+ mph batted balls look like at different positive launch angles, here are a few visuals. This double from the NLCS leaves Yoenis Cespedes's bat at 106 miles per hour with a 13-degree launch angle.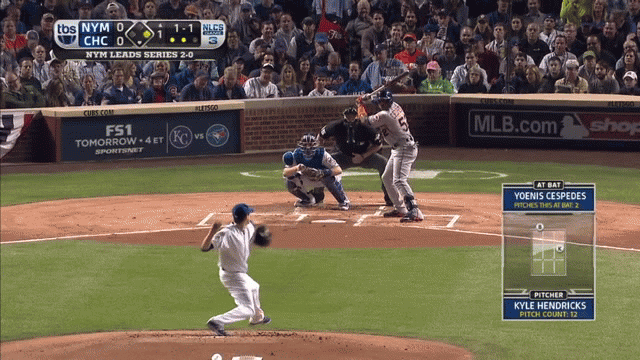 This single by Cespedes from later that game has an exit velocity of 102 miles per hour with a 1-degree launch angle.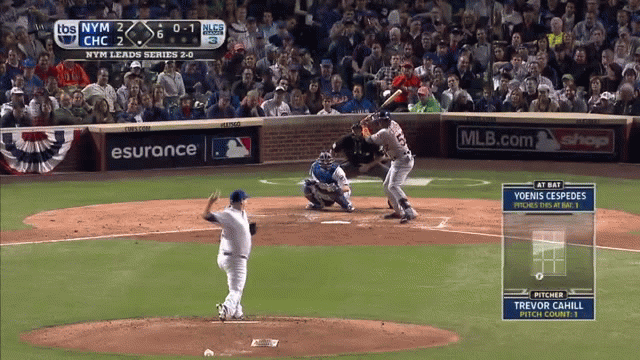 And this home run by David Wright in the World Series has an exit velocity of 103 miles per hour with a 32-degree launch angle.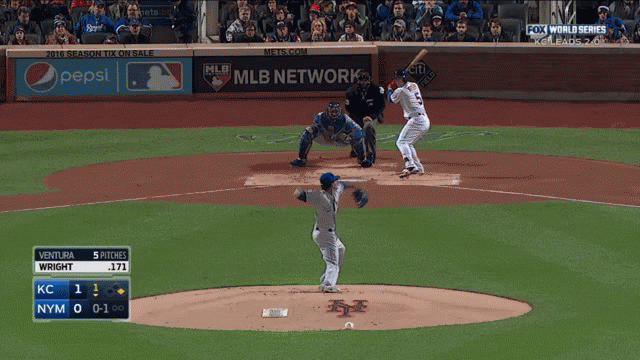 Here are the Mets' pitchers and where they rank in giving up Statcast-derived hard contact, as defined by batted balls with exit velocities of 100+ mph with a positive (greater than 0 degree) launch angle. The data has been collected using the Statcast database.
As a staff, Mets pitchers have limited opponents to 352 hard hit balls, the fourth-best among all teams in baseball. Only the Cubs, Nationals, and Dodgers have been more successful at limiting those type of batted balls.
| | | |
| --- | --- | --- |
| Team | Rank | Hard hit balls allowed |
| Cubs | 1 | 298 |
| Nationals | 2 | 329 |
| Dodgers | 3 | 332 |
| Mets | 4 | 352 |
| White Sox | 5 | 360 |
The Cubs, Nationals, Mets, and Dodgers also have the top four team ERAs in baseball, which probably isn't a coincidence.
As individuals, the Mets have multiple pitchers who limit hard contact at an above-average level. Below, they are ranked in order of the percentage of their opponents at bats against them that end in hard contact, from lowest to highest. The major league average percentage of at-bats ending in hard contact is about 12%.
Starters
| | |
| --- | --- |
| Player | % of opponents at bats ending in hard contact |
| Steven Matz | 8.3% |
| Noah Syndergaard | 9.1% |
| Matt Harvey | 10.9% |
| Jacob deGrom | 12.0% |
| MLB AVERAGE | 12.0% |
| Bartolo Colon | 12.7% |
| Logan Verrett | 14.1% |
Relievers
| | |
| --- | --- |
| Player | % of opponents at bats ending in hard contact |
| Jeurys Familia | 8.3% |
| Addison Reed | 8.3% |
| Jerry Blevins | 8.4% |
| Antonio Bastardo | 10.3% |
| MLB AVERAGE | 12% |
| Hansel Robles | 13.5% |
| Erik Goeddel | 14.7% |
Steven Matz and Noah Syndergaard lead the way among starters in limiting hard contact, both with elite percentages. Syndergaard has been getting hit harder lately, though, and he's dealt with a bone spur and arm fatigue.
| | | |
| --- | --- | --- |
| Syndergaard % of opp ABs ending in hard contact | Dates | |
| 8.2% | First 14 starts | |
| 12.5% | Last 4 starts | |
Jacob deGrom has allowed a lot more hard contact this year than last year. In 2015, deGrom only allowed 56 hard hit balls all season spanning 694 opponent at bats, an 8% rate, one of the best marks in baseball. This year, deGrom has already allowed 47 hard hit balls spanning 390 opponents at bats, a 12% rate, which is average. deGrom has battled velocity loss throughout this season, with it down early in the year, then up, then back down again in his most recent start against the Marlins.
Matt Harvey actually prevented hard-hit balls—at least in terms of exit speed—at an above-average level while being unable to feel the baseball because of his nerve condition, which is kind of amazing. A lot of his problems had to do with giving up too many batted balls at line drive angles that easily cut through the defense to fall for hits.
It's important to emphasize that while limiting hard contact can help limit hits and runs, it's not everything. It doesn't take into account hit placement, or softer line drives. Batted balls that leave the bat at less than 85 mph with launch angles between 10 and 25 degrees—line drives—go for hits over 60% of the time. A "hard contact allowed" statistic is a good peripheral statistic to use as one component of player evaluation, but other observations on batted balls should be used to paint a more complete picture. Matt Harvey's 2016 season, during which he was ineffective despite preventing high exit speeds, is a good example of that.