In Jacob deGrom's most recent start against the Cubs on Friday, he featured an electric fastball reminiscent of his 2015 season. Via PITCHf/x, deGrom averaged 94.9 mph with his four-seam fastball Friday, which is identical to his 2015 four-seam velocity and up from 93.0 mph in previous starts this year. He also reached his highest max speed on a fastball all season, hitting 97 mph on a two-seamer thrown to Ben Zobrist in the third inning.
Before Friday's start, the highest deGrom's four seam-fastball averaged in any start this year was 93.9 mph, 1 mph less than it sat Friday. On Friday, deGrom threw 54% of his fastballs 95 mph or faster. Before Friday, deGrom had only thrown 6% of his fastballs 95 mph or faster. His fastball also appeared to have more late life, the type of takeoff that sneaks up on hitters.
Something else that stood out was deGrom's ability to get Cubs hitters to chase his high fastball up and out of the zone with two strikes. This was something deGrom did at a very high level in his ace 2015 season. In 2015, deGrom led all MLB pitchers in strikeouts on a four-seamer above the strike zone, with 51. Against the Cubs on Friday, deGrom generated five strikeouts with four-seamers above the strike zone, the most he's generated in a start all year.
deGrom's strong fastball velocity and life helps it become a better put-away pitch with two strikes when thrown high in the zone or above the zone. In 2015, deGrom threw his four-seamer at the top of the strike zone or above the strike zone 312 times in two-strike counts and recorded a strikeout with it 70 times, a 22.4% put-away rate, which is well above the major league average of 16.6%. Before Friday's start against the Cubs, deGrom's put-away rate on high four-seamers had dropped to 18.5% this year. During Friday's start, deGrom put Cubs batters away at a 45.5% rate on high four-seamers, pitches at the top of the strike zone or above it.
| | |
| --- | --- |
| Date | Put-away rate on high four seamers |
| Friday vs Cubs | 45.5% |
| 2016 prior to Friday | 18.5% |
| 2015 | 22.4% |
deGrom's fastball averaged 95.0 mph in those upper zones Friday, well above the 93.3 mph it had averaged in previous starts in 2016, and is comparable to his 2015 velocity in those zones of 95.2 mph. His high fastball also picked up some spin with the velocity increase, going from 2,269 RPM in those zones prior to Friday to 2,309 RPM Friday.
deGrom was more vulnerable to getting burned when climbing the strike zone earlier in the year with lesser velocity. Here's Ramon Flores turning on a high 93 mph fastball and hitting it over the fence:
Compare that to Friday. Here's Ben Zobrist swinging behind a high 96 mph fastball that takes off up above the zone: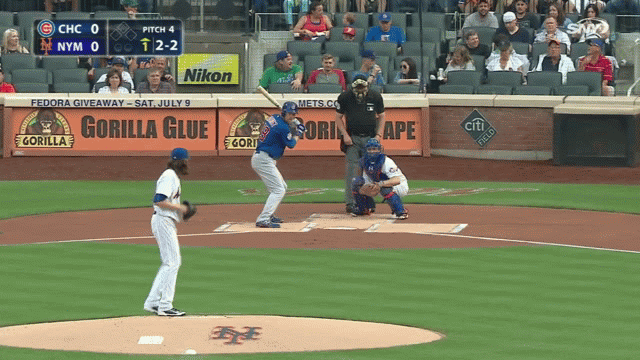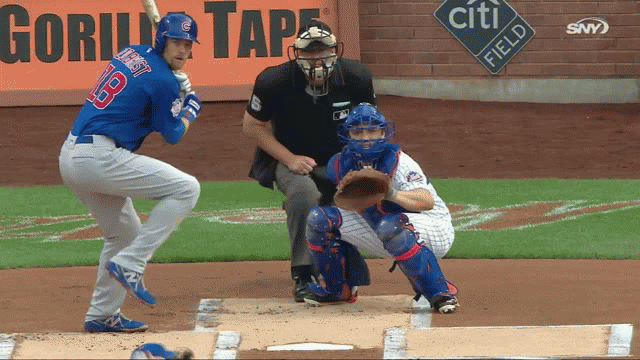 For a different view, here's what deGrom's high 95 mph fastball looked like from behind home plate Friday:
After pitching with diminished velocity for most of the year, Jacob deGrom is now getting his arm strength back, and that's bad news for the rest of the National League.