Robert Gsellman made his major league debut last night, replacing injured starter Jon Niese in the first inning. He threw 75 pitches in 3.2 innings of relief, spanning from the first to fourth inning. Gsellman's fastball was classified as a four-seamer by both PITCHf/x and Statcast, and it averaged 94.0 mph on each tracking system while topping out at 95.6 mph.
The average MLB starter sits 92.0 mph on his four-seam fastball in 2016, so Gsellman sat well above that number on Tuesday night. He held his fastball velocity throughout the 75 pitches he threw. In the first inning, Gsellman's fastball averaged 93.71 mph. In his last inning, it averaged 93.75 mph.
Gsellman's slider resembled the speed and shape of the deadly Warthen slider. It averaged 87.5 mph and topped out at 90.2 mph. The average slider sits 84.3 mph in 2016.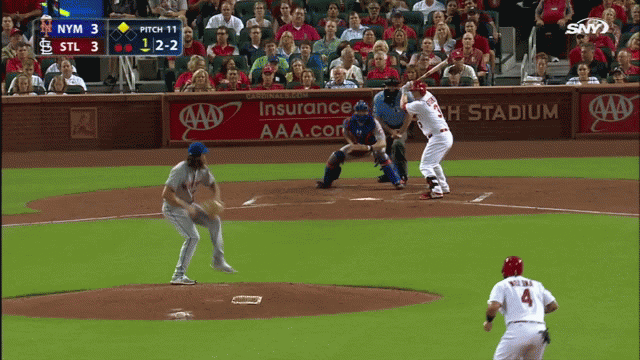 Gsellman's slider spin rate was tracked by TrackMan at an above average 2,445 RPM on average, while topping out at 2,883 RPM. There isn't a whole lot of public research on spin rates, but there is some research that indicates that a higher spin rate generally makes the pitch tougher to hit. Gsellman's slider spin rate is the highest spin rate on a slider by anybody currently on the Mets, edging out Jacob deGrom by about 40 RPM. The average slider spins at 2,284 RPM.
Gsellman's curveball also registered a high spin rate, coming in at 2,731 RPM, which is above the major league average of 2,469 RPM on a curveball. It ranks second highest on the Mets, behind curveball spin rate king Seth Lugo, who averages 3,353 on his curve, which is the best mark in all of Major League Baseball by over 150 RPM. For velocity, Gsellman's curve sat 80.8 mph, well above the average curve velocity of 77.0 mph, and topped out at 83.4 mph.
Gsellman generated nine swinging strikes in 75 pitches, a 12% rate, which is above the major league average of 9.4% for starting pitchers. He generated four swinging strikes on his fastball, three on his slider, and two on his curveball.
On top of that, Gsellman generated some weak contact in his outing. Of the 10 batted balls put into play against Gsellman, seven had an exit velocity under 87 mph, and four had an exit velocity under 80 mph. The average starter generates exit velocities under 87 mph on 33% of his batted balls. Gsellman generated sub-87 mph exit velocities on 70% of his batted balls Tuesday night. Preventing high exit speeds is a good way to limit extra-base hits—batters have just a .477 OPS when generating exit velocities of 87 mph or under. On the high-end exit velocity scale, Gsellman gave up two batted balls with an exit velocity over 100 mph, a 20% rate, which is about average.