For those who are fans of wrestling, you understand the title. For those who don't, it's basically we are stuck in mediocrity. Second, third, fourth place and we need to get out of it now and to the big one! The main event of baseball, the World Series. So, LFGM and make a hell of a team cause this is not where wanna be again next year.
Before anything else... Luis Rojas and Zack Scott?
Firstly... a mistake must be fixed. Carlos Beltran will be the next manager of the New York Mets, a controversial decision that may ignite all of AA with fury, I know, but the man must be.
Mets Free Agents:
Michael Conforto: We'll give him the qualifying offer, he'll decline it as he did in real life and while I do think he has value left, unfortunately, Scott Boras is his agent. We do not deal with Boras, who wants far too much money and thus take the draft pick instead. Bye Mikey, thanks for the good time.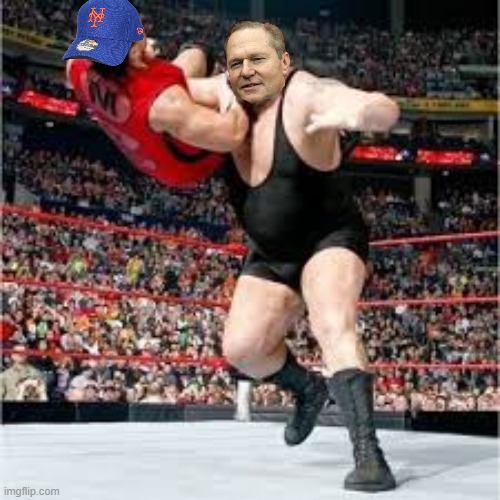 Noah Syndergaard: Thor will bet on himself and sign the qualifying offer for 18.4 million dollars. Well then. Thor signed with the Angels so that is no longer an option.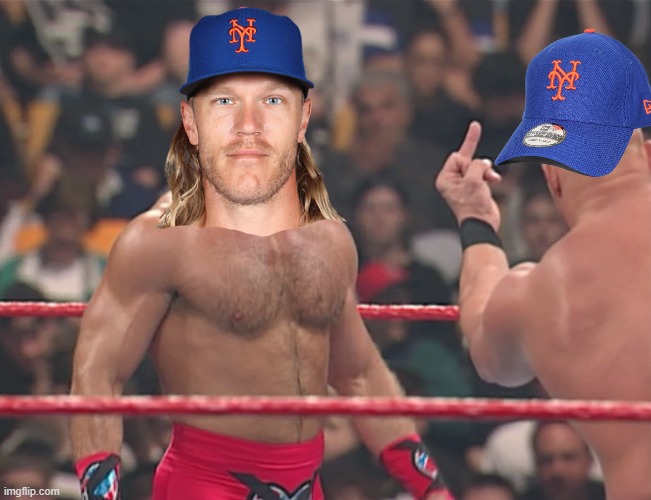 Marcus Stroman: Tough decision, but we will let him walk. With the recent unexpected Thor signing to the Angels, we will sign back Stroman for a good run, on a 4 year, 76 million dollar contract, deferred to help the bottom line right now (16, 18, 20, 22).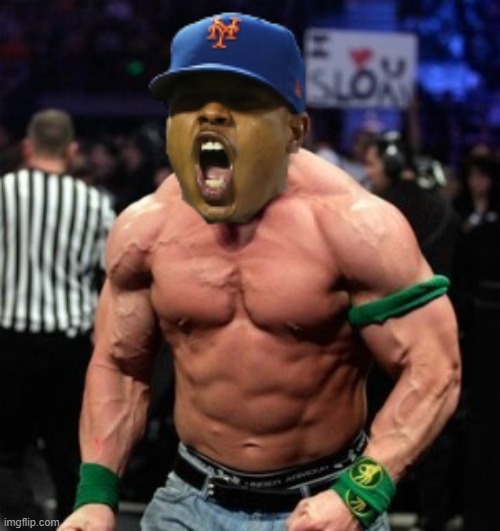 Javier Baez: Javy. Freaking. Baez. In my eyes, among the best of the free agency crop available and thus, a must-get for this team as he can play almost anywhere and he's a perfect fit. Seven years, 206 million dollars with a deferred salary (22, 24, 26, 29, 32, 35, 38) and the Man is a Met for life.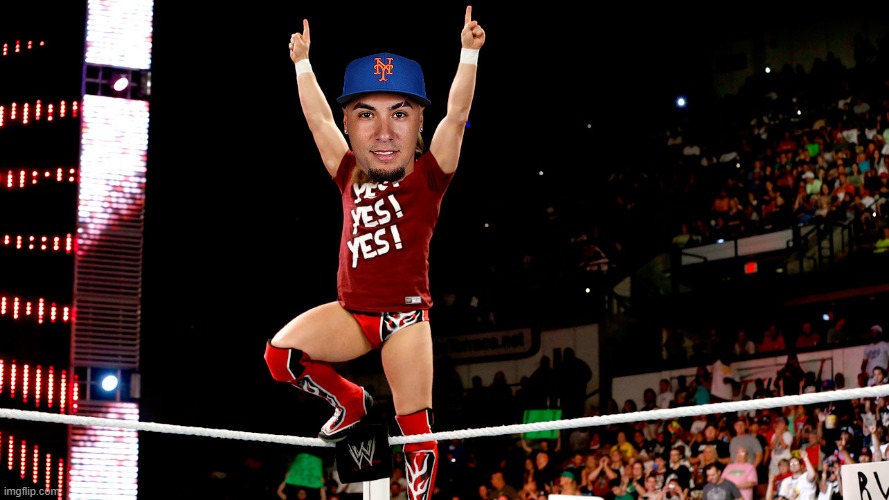 Dellin Betances: Good riddance.
Kevin Pillar: We will decline his club option, thus sending him into free agency.
Heath Hembree: I forgot he was still on the team.
Rich Hill: As good depth for our rotation, we will sign him to the league minimum of 600,000 dollars.
Aaron Loup: Great reliever last year, we'll reward him with a 12 million dollar deal over three years.
Jonathan Villar: Great signing last time around, but he is asking for too much money so he'll walk.
Brad Hand: Adios.
Jeurys Familia: Byeeeee.
Mets Tenders:
Brandon Nimmo: Definitely tendering and extending him on a nice little four year deal, worth about 40 mil over time (8, 10, 10, 12)
Pete Alonso: No-brainer, and extend him, 8 years, 108 million (10, 11, 12, 13, 14, 15, 16, 17), with an opt-out after four, and make him the damn team Captain. Polar Bear Power!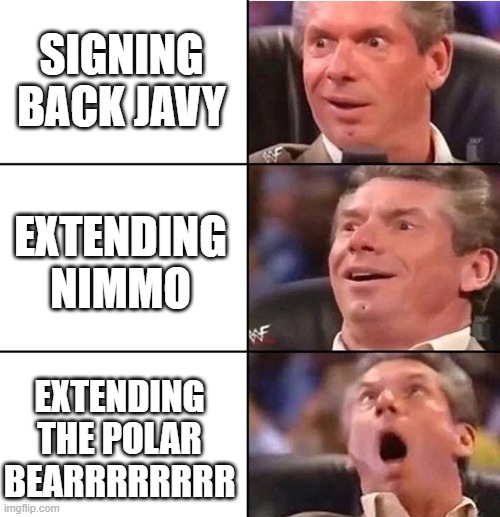 Jeff McNeil: An extension would have been a no-brainer as well, but he's getting older, had a poor 2021 and didn't look his usual self. However, he's a former All-Star and can bounce back, so we will tender him the 2.8 mil.
Edwin Diaz: Tendering, about 10 mil as he's a good closer when not overworked and needs to be in for us in the ninth, well for now at least.
Seth Lugo: Tendered, as he will bounce back and can pitch out of the pen or in the rotation.
Tomas Nido: Need a backup catcher, so Nido is getting the tender.
Dom Smith: Tendered, I know many want him gone but I feel he has something left to give to this team.
JD Davis: Tendered, at the worst, he's good depth and cheap.
Luis Guillorme: Man caught a flying bat in his bare hands. Tender.
Robert Gsellman and Drew Smith: The depth tenders continue as these two have been good parts of the bullpen in the past and still have something to offer on the cheap.
Miguel Castro: Good reliever, but better options exist, thus he is gone.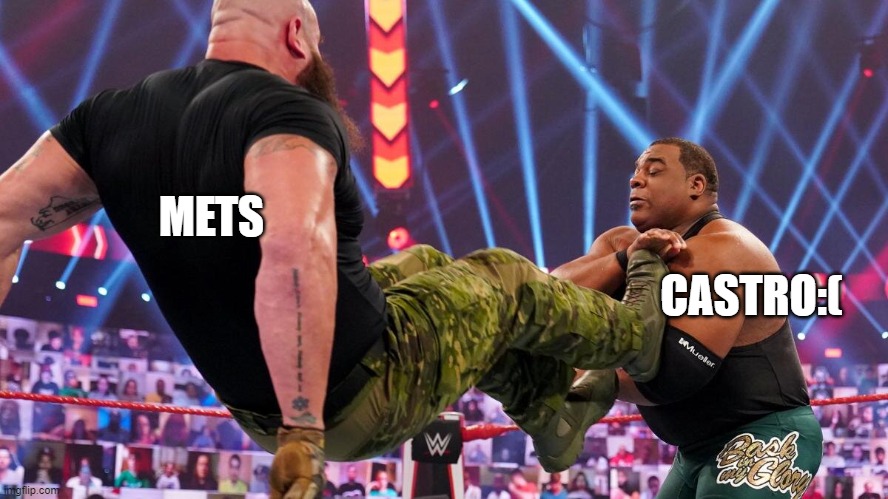 Albert Almora, Joey Luchessi, Jose Peraza, Jose Martinez and Trevor Williams: Non-tender for all five, just cheaper and better options out there for this ballclub.
Releases:
Corey Oswalt, Stephen Nogosek, Jake Reed and Robert Stock - Roster is now at 32.
Trades:
Robinson Cano, Edwin Diaz and 20 million dollars in cash (to cover half of Cano's contract) to the Boston Red Sox for Nathan Eovaldi and Connor Wong - we dump off the albatrous contract of Cano, the Red Sox get a hell of a closer in Diaz, now that he exits the bright lights of NYC, Wong's nice depth and we find a pretty good replacement for Thor in Eovaldi. The Red Sox desperately need bullpen help, something that killed them this season and Diaz is a great option, even if we have to send cash and eat more in Eovaldi's deal. Cano can also help Boston, who is a win-now mode, and still, as shown in 2020, has some stuff left in the tank.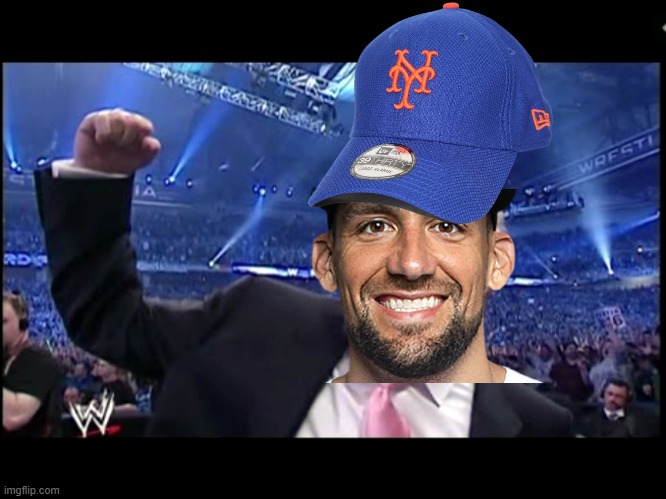 Ronny Mauricio and Thomas Szapucki to the Arizona Diamondbacks for Ketel Marte - And there is the Conforto replacement. Ketel Marte, on a team-friendly deal, going from the D-Back on the downtrend to us in New York on the up-swing. While Mauricio is an intriguing prospect, he is blocked by Lindor and a man who will be signing with us momentarily and thus is expendable, particularly at his hot streak right now as is Szapucki. This is done by both teams and thus we gain a big time outfielder and the D-Backs gain two hot prospects for their rebuild.
James McCann and Travis Blankenhorn for Emilio Pagan - The Padres have the most aggressive GM in all the league with a propensity for oddball trades, but he will take the risk that McCann will go back to form after departing the bright lights and hopefully back to his 2020 season-stats. Blankenhorn is a great add on as well, as he could be truly something in the league, especially for the Padres. And in return, we get a good reliever in Pagan who is younger and cheaper than a lot of other options.
JD Davis, Mark Vientos and Ryley Gilliam for Mike Zunino - The Rays gets a solid option with JD, an incredible third base prospect in Vientos (now blocked by Javy), a solid outfield prospect in Gilliam, clear the way for Francisco Mejia to get some playing time along with their multiple catching prospects and we get a solid replacement for McCann coming off a career year, but who still doesn't align with the Rays' analytical approach.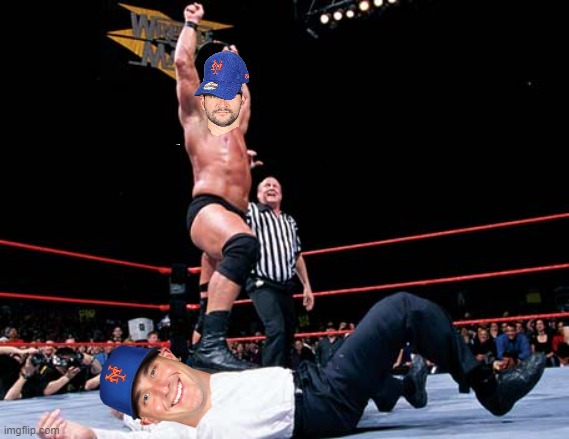 Free Agent Signings:
Max Scherzer: We need a Curt Schilling. And no, that is not Carlos Carrasco. Battle-tested, former All-Star, Cy Young and World Series winner Max Scherzer is that man. 2 years, 40 million is the answer, with a mutual option for a third and he will lead this staff to hopefully glory as Ace-2, behind deGrom.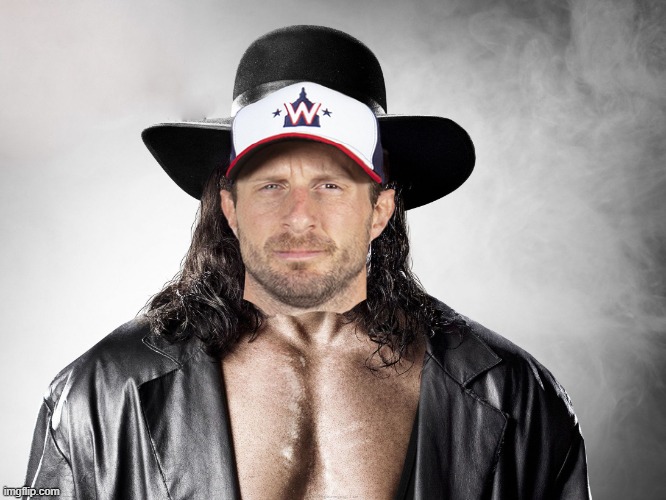 Nelson Cruz: Boom. 10.5 mil for one year and we get the ageless wonder for one hell of a DH, with incentives for HR and ASG markers.
Avisail Garcia: For a two-year, 26 million dollar deal (11, 15), with a player option for a third year, Garcia will fill out nicely in right for us.
Asdrubal Cabrera: For 1.5 million dollars, a former Met favorite returns to play a utility role.
In this year's former Met parade: Juan Lagares, Matt Harvey, Ruben Tejada, Gavin Ceechini and Yoenis Cespedes (no horse riding allowed) (Minor League): The Dark Knight returns? Not quite, but Harvey at the worst is good Triple-A fodder and at best, can be a decent #5 starter in case of injuries. With Cespedes, it's honestly seeing if he still has anything left and if not, opt-out in June. Lagares, Tejada and Ceechini all fill out good depth spots.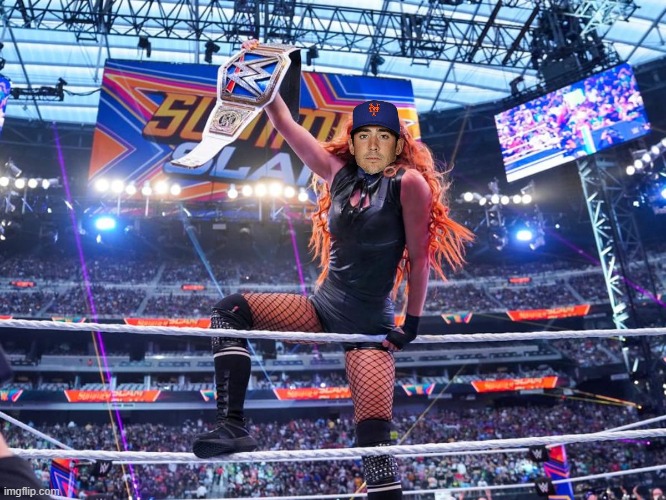 Jon Lester, Matt Joyce, Joe Smith, Andrew Miller and Stephen Vogt (Minor League): If they work, they work and if not, just a minor league deal.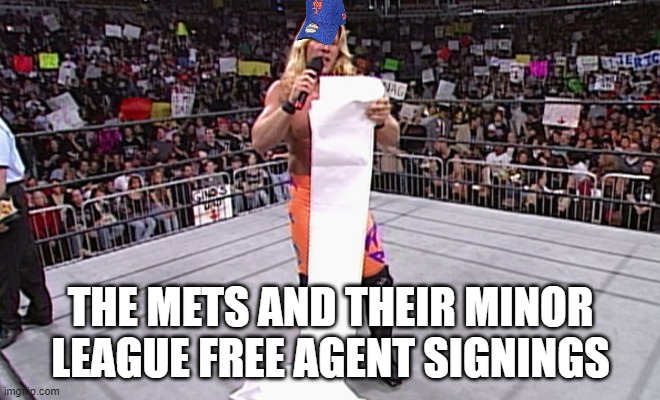 And so here we are. The New York Mets reborn as a great team, a team ready to compete. Come get us.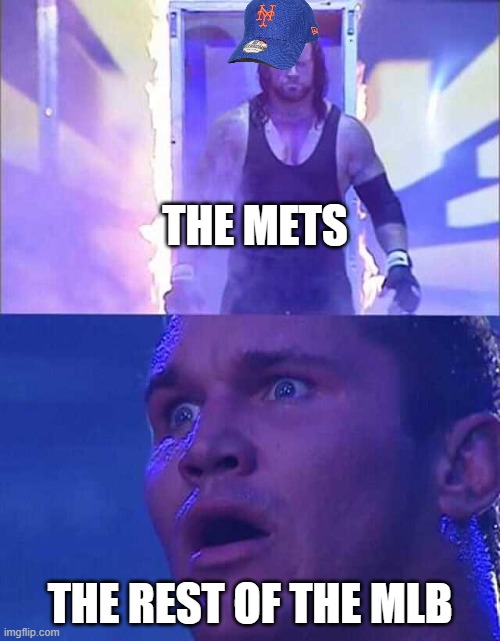 Starting Position Players

Position/Name

$(M)

Bench

C - Mike Zunino

7

Tomas Nido

1

1B - Pete Alonso

12

Asdrubal Cabrera

0.6

2B - Javy Baez

22

Yoenis Cespedes

0.6

3B - Jeff McNeil

2.8

Dom Smith

4

SS- Francisco Lindor

34.1

Patrick Mazeika

-

LF - Brandon Nimmo

8

Juan Lagares

-

CF - Ketel Marte

8

Connor Wong

-

RF - Avisail Garcia

11

DH - Nelson Cruz

10.5

Rotation

Bullpen

Jacob deGrom

36

Carlos Carrasco

12

Max Scherzer

20

David Peterson

0.6

Marcus Stroman

16

Trevor May

7.6

Nathan Eovaldi

17

Seth Lugo

3.7

Taijuan Walker

7

Aaron Loup

4

Tylor Megill

-

Robert Gsellman

1.6

Matt Harvey

-

Drew Smith

0.6

Carlos Carrasco

-

Emilio Pagan

2.1




Yennsy Diaz

-

Sean Reid-Foley

-

Jordan Yamamoto

-

Andrew Miller

-

Joe Smith

-

TOTAL

250.7




Italics = Depth